In the 398th issue of ProcessWire Weekly we'll cover the latest core updates, check out some weekly forum highlights and other online resources, and more. Read on!
Welcome to the latest issue of ProcessWire Weekly! In this week's issue we are going to check out the latest core updates — ProcessWire version 3.0.191 — along with some related updates to the official site profile export module.
In other news we will also highlight a few forum topics and other online resources we think you folks might find interesting, and we've also got a brand new site of the week to introduce; this time belonging to the landscape architecture office Terramanus.
Since this is our last issue for year 2021, we'd also like to thank our readers for all the interest and support we've received the past year, and wish you all Happy New Year! 2021 has been a strange and difficult year in many ways, but ProcessWire has taken some huge leaps this year, and we're already eager to see what 2022 has to offer.
Thanks to all of our readers for being here with us again, and as always, any feedback is most welcome – please don't hesitate to drop us a line if there's anything in your mind you'd like to share with us. Enjoy our latest issue and have a great weekend!
Latest core updates: ProcessWire 3.0.191 + Process Export Profile 4
In the latest weekly update Ryan introduces ProcessWire 3.0.191, along with updates to the Profile Export module, which allows one to easily create a new site profile from an existing, ProcessWire powered site.
What's new in ProcessWire 3.0.191?
Last week ProcessWire went on a serious diet, shedding all but the "blank" site profile from the core bundle, but that left us with a new issue: new users may not know that we've got ready-to-use site profiles for various purposes, and thus may find it harder than necessary to really get into using ProcessWire.
In addition to some minor bugfixes, 3.0.191 extends ProcessWire's installer with helpful instructions for downloading additional site profiles, and also adds the refresh button, which makes the process more obvious. Additionally, as of 3.0.191 site profiles can now bundle a finish.php file, which allows them to run any custom tasks they may require.
As a companion to the installer, there's a new site profiles page under the Downloads section at processwire.com. This page introduces the "official" site profiles, providing demo links for most of them, and also includes a link to the third party site profiles category in the modules directory.
Process Export Profile 4.x
Latest iteration of Process Export Profile went live alongside ProcessWire 3.0.191. Version 4 of this module is specific to ProcessWire 3.x, has proper namespaces in place, and site profiles created by it are intended to be used on ProcessWire 3.x sites. Among other things created profiles will now automatically include existing custom Page classes.
That's all for our core updates section for this week. For more details, be sure to also check out the weekly update from Ryan at the support forum. Thanks!
Weekly forum highlights, tutorials, and other online resources
For this week we've gathered a list of support forum highlights and other useful and hopefully interesting resources. As always, please let us know if there's anything important we've missed, so that we can include it in one of our future issues.
First of all we'd like to highlight a post from Jonathan Lahijani in which he walks us through a total of three potential Repeater Matrix based page builder ideas — and asks for community feedback. Definitely some neat stuff in there, so be sure to check them out; there's a demo video included as well.
Next up is one of our favourite topics, and one that seems to interest quite a few of our readers as well: an all-new topic about ProcessWire development setups. The end of the year is all about sharing, so feel free to share a few deets about your own setup, we'd love to hear more about how you work :)
A highlights post wouldn't be complete without at least one tips'n'tricks link, so here we go: a small snippet from Bernhard for programmatically adding custom markup field to the page editor. No dependencies, just a few lines of code — just the way we like 'em!
At the end of the year we tend to see a lot of "yearly wrap up" posts, so we've collected a few potentially interesting links below — these are not strictly about ProcessWire, but should be of interest to web developers out there:
The 2021 edition of The State of CSS has just been released, and as always there are a lot of figures, facts, and interesting nuggets of information about the way sites are (or were) built this year.
Another valuable resource is HTTP Archive's annual state of the web report, The 2021 Web Almanac. This was featured in one of our previous issues already, but you know what they say about repetition.
One more interesting end-of-the-year report comes from JetBrains, and is labeled The State of Developer Ecosystem 2021. Popular languages, tools, and many other facts and figures about our shared field of expertise.
Lastly, another very loosely ProcessWire related highlight: the Chrome DevTools team has just added an interesting new accessibility tool, called accessibility tree. Any tool that makes developing accessible sites easier is worth a special mention, and this clearly belongs to that category; check out the link above for more details.
If you're interested in ProcessWire news, discussions, and updates, there's always something going on at the support forum. Since we're only able to include a tiny selection of all that in our weekly updates, head down to the forum for more.
Site of the week: Terramanus landscape architecture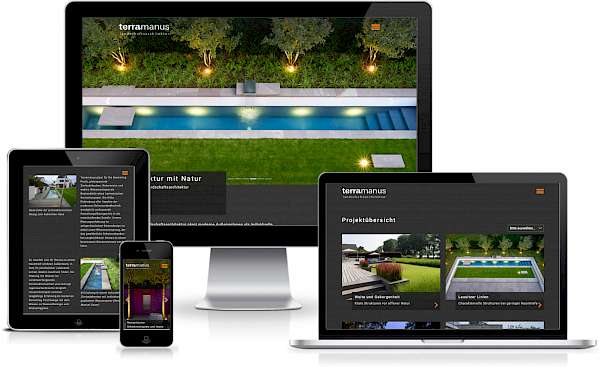 Our latest site of the week belongs to the company called Terramanus: a landscape architecture agency run by Manuel Sauer, based in the city of Bonn, Germany.
The newly released website of Terramanus was built by Schwarzdesign, and is featured in a brief case story in their blog. From the case story we know that notable chunk of content was migrated to ProcessWire from earlier implementation, which was based on the Drupal CMS.
There's plenty of content on this site — and, as one might expect, numerous gorgeous photographs of projects handled by Terramanus. The site introduces the company and their process in detail, provides contact information, and just overall makes it obvious that Terramanus is definitely the company to contact when in need of landscaping.
The front-end of this site is based on the Bootstrap front-end framework, and makes use of the Klaro! consent manager, along with a few other JavaScript components. In terms of backend implementation, there's not much we can tell, except for the site obviously being powered by ProcessWire.
Big thanks to the folks at Schwarzdesign for sharing this project — and congratulations to the client, Terramanus, for their new website!
Stay tuned for our next issue
That's all for the 398th issue of ProcessWire Weekly. We'll be back with more news, updates, and content Saturday, 1st of January. As always, ProcessWire newsletter subscribers will get our updates a few days later.
Thanks for staying with us, once again. Hope you've had a great and productive week, and don't forget to check out the ProcessWire forums for more interesting topics. Until next week, happy hacking with ProcessWire!