In the 405th issue of ProcessWire Weekly we'll cover the latest core updates, introduce a new third party module called Selectize All, and more. Read on!
Welcome to the latest issue of ProcessWire Weekly. In this week's issue we're going to check out the latest core updates available via the dev branch at GitHub, as well as introduce a brand new third party module called Selectize All, built by Robin Sallis.
Our latest site of the week is that of pastry chef and chocolatier Natasha Marques. Her newly released website was developed by the Porto, Portugal based creative agency SuperTINY, and is a real stunner for sure. Keep on reading for more details.
Thanks to all of our readers for being here with us again, and as always, any feedback is most welcome – please don't hesitate to drop us a line if there's anything in your mind you'd like to share with us. Enjoy our latest issue and have a great weekend!
Latest core updates: ProcessWire 3.0.194
This week the core version in the dev branch of ProcessWire was officially bumped to 3.0.194, making the major updates from last week available via the upgrades module.
As Ryan explains in his latest weekly post, there are also some new updates this week, but nothing particularly major. Here are some highlights from the weekly commit log from GitHub:
WireArray::sort() was updated to behave more like PHP's native sort, sorting null and blank items by default, instead of just appending them to other items.
AsmSelect was updated to detect items that existed initially, so that removing an item right after adding it (such as when a field has been added to template, but has not been saved yet) won't trigger a "confirm removal" step.
ProcessPageAdd was updated to provide better performance by avoiding the need to load all templates/fields more than once per session, or when there have been changes to templates.
That's all for our core updates section this week. Be sure to also check out the weekly core updates post from Ryan at the support forum. Thanks!
New module: Selectize All
Selectize All is a brand new third party module developed by Robin Sallis. This module adds support for the Selectize jQuery library — now bundled with the ProcessWire core — to Select (InputfieldSelect) and AsmSelect (InputfieldAsmSelect) fields in the admin, making it easier and faster to find items to select.
As Robin explains in the module's directory entry for the module, it was built in a way that allows it to work nicely with even the dynamic options you'll find from the admin, including — but not limited to — the "Select File" option in the link editor dialog. This behaviour is achieved by dynamically creating and destroying Selectize instances.
Via module config settings it's possible to choose whether you'd like this module to apply to select fields, AsmSelect fields, or both. In case you'd like to have even more control over the behaviour, you can hook into SelectizeAll::allowSelectize and choose exactly which fields it will — or won't — be enabled for.
You can install this module using the built-in module installer in the admin, or clone or download it directly from the Selectize All GitHub repository. If you have any questions, be sure to visit the dedicated support forum thread for Selectize All.
Big thanks to Robin for sharing this module with us — amazing work as always!
Site of the week: AR by Natasha Marques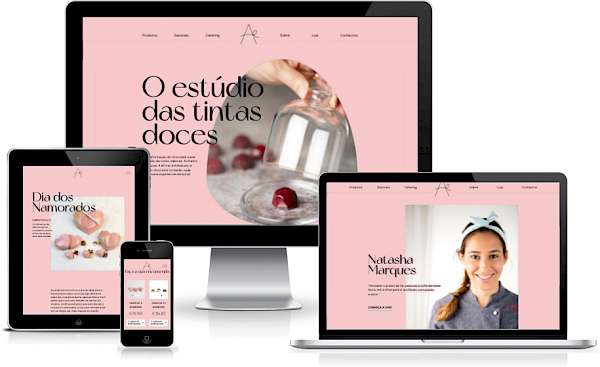 Our latest site of the week is called AR by Natasha Marques. This recently released project was built by SuperTINY agency.
Natasha Marques is a desserts chef and chocolatier from Brazil with an international career. She's currently setting up a shop in Porto, and already shipping her premium line of sweets and desserts.
The language of the site is Portuguese, and it features a beautiful, stylish design with numerous animated details providing the design an extra boost. For fans of chocolate art and desserts there are plenty of mouth-watering and jaw dropping photographs to check out, in addition to plenty of information about the products, services, and so on.
As the sites directory entry for the AR by Natasha Marques website explains, this site combines StencilJS frontend with a ProcessWire powered backend with content block based approach. The site makes use of third party ProcessWire modules SeoMaestro and WireMailSmtp, and a custom block selector module based on FieldSelectFile.
If you'd like to hear more about this site, head down to the showcase form thread. Big thanks to the folks at SuperTINY for sharing another very interesting project with us, and our congratulations to Natasha Marques for her new website!
Stay tuned for our next issue
That's it for the 405th issue of ProcessWire Weekly. We'll be back with more news, updates, and content Saturday, 19th of February. As always, ProcessWire newsletter subscribers will get our updates a few days later.
Thanks for staying with us, once again. Hope you've had a great and productive week, and don't forget to check out the ProcessWire forums for more interesting topics. Until next week, happy hacking with ProcessWire!