In the 410th issue of ProcessWire Weekly we're going to cover the latest core updates, introduce a new module called Debug Mode Switch, and more. Read on!
Welcome to the latest issue of ProcessWire Weekly! In this week's issue we'll cover the latest core updates and the weekly update post from Ryan, and we'll also introduce a new third party module called Debug Mode Switch.
As always we're also going to highlight a new site of the week. Our latest pick belongs to the one and only Kinross House, which is an exclusive rental and spa location in Scotland. We'll cover this gorgeous site in just a bit, so stay tuned for that.
Thanks to all of our readers for being here with us again, and as always, any feedback is most welcome – please don't hesitate to drop us a line if there's anything in your mind you'd like to share with us. Enjoy our latest issue and have a great weekend!
Latest core updates
In this week's update Ryan talks about the latest core updates, which primarily focused on resolving issues reported via GitHub, as well as his work on existing Pro modules — and some modules that we've not yet had the opportunity to see in action.
Here's a quick update on one of such projects, which Ryan has been working on lately, and will likely cover in more detail in one of his future updates:
One module I've been working on this week (and last week) enables you to export translations for multi-language fields into JSON or CSV files. These files can be read into other translation systems, edited, and then imported back into ProcessWire.

— Ryan
That's definitely something to look forward to, particularly for anyone who works with third party translators. We'll keep you posted as more details emerge.
As for the core updates this week, these were mostly minor ones: PHP 8.1 compatibility improvements, better error message when module install via admin is disabled due to non-writable modules directory, correction to permissions for template files created while an existing template is cloned in the admin, and so on.
As always the full changelog for this week's core commits can be found from GitHub if you'd like to really dig in.
That's all for our core updates section this week. Be sure to check out weekly update from Ryan for more details. Thanks!
New module: Debug Mode Switch
Debug Mode Switch is a brand new third party module developed by tcnet. In a nutshell this module enables the debug mode config setting during page load, which — among other things — makes it possible to "override" the default module install configuration (non modules directory module installs require enabling debug mode.)
This module provides two module configuration settings, which define how (and if) it'll work: one setting defines whether it should dynamically enable debug mode, and other defines whether this should only apply to superusers.
Note that enabling the debug mode via this module during request will not behave as if the debug mode was actually enabled via site config. For one, you will not see warnings and errors like you would if debug mode was enabled "the usual way".
If you'd like to give this module a try, you can install it in the admin via the modules directory, or download or clone the module files directly from the Debug Mode Switch GitHub repository. Thanks to tcnet for developing this module and sharing it with us!
Site of the week: Kinross House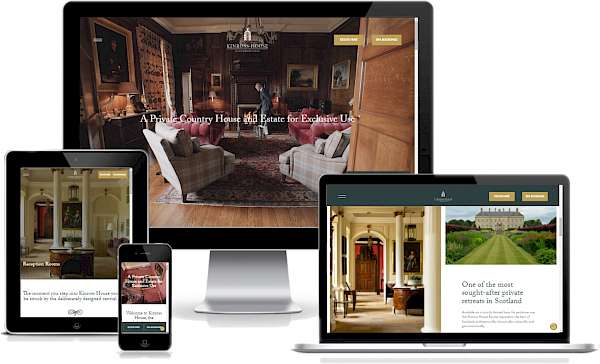 Our latest site of the week is that of Kinross House, a private country house and estate described as "the architectural jewel in Scotland's crown".
Kinross House is one of the most sought-after private retreats in Scotland. It's available – on a strictly limited basis for exclusive use – for rent for private and corporate events, and there are spa facilities on the premises as well.
The website of Kinross House, built by ID Studio Web Agency, features a gorgeous design, complete with video backgrounds, high quality photographs combined with drawings, striking typography, and varying layouts that make browsing the site quite an experience. Content wise there's quite a lot going on in here as well, so this site is well worth checking out if you'd like to learn about the history of this stunning location.
As for behind the scenes details, the front-end of the Kinross House website is based on the Bootstrap front-end framework, with additional effects powered by the Animate On Scroll JavaScript library. The site appears to be using a custom block builder approach, but the rest of the implementation remains behind the scenes, so there's not much for us to say here.
Big thanks to the folks at ID Studio Web Agency for sharing this project with us, and our congratulations to the client, Kinross House, for their new, ProcessWire powered website!
Stay tuned for our next issue
That's all for the 410th issue of ProcessWire Weekly. We'll be back with more news, updates, and content Saturday, 26th of March. As always, ProcessWire newsletter subscribers will get our updates a few days later.
Thanks for staying with us, once again. Hope you've had a great and productive week, and don't forget to check out the ProcessWire forums for more interesting topics. Until next week, happy hacking with ProcessWire!