In the 420th issue of ProcessWire Weekly we're going to check the latest core updates, share some forum highlights and other online resources, and more. Read on!
Welcome to the latest issue of ProcessWire Weekly! In this week's issue we're going to check out the latest development version of ProcessWire, 3.0.201, and share the latest forum highlights and other online resources.
As always we've also got a new site of the week, this time belonging to the Berlin based string quartet Leonkoro. In addition to a really nice design, their website also features a rather unique implementation; keep on reading for more details.
Thanks to all of our readers for being here with us again, and as always, any feedback is most welcome – please don't hesitate to drop us a line if there's anything in your mind you'd like to share with us. Enjoy our latest issue and have a great weekend!
Latest core updates: ProcessWire 3.0.201
After a successful launch of our latest stable release, 3.0.200, this week we're back on track with new feature updates. Latest version of the core available via the dev branch at GitHub is 3.0.201, and here's what's new since last week:
New "Tab" field visibility options make it possible to configure any single field to be displayed as a tab of its own — even AJAX loaded or locked one — in the page editor without the need for a separate FieldsetTab field.
New $page->getMultiple() method takes an array or comma-separated list of field names, and returns values for said fields as a native PHP array. If boolean true is provided as second argument, return value is an associative array.
On a loosely related note we'd like to send our heartfelt thanks to the maintainers of ProcessWire language packs. As of this writing (at least) German, Finnish, Norwegian, French, and Russian language packs are already available for ProcessWire 3.0.200 — thank you for your contributions to the global ProcessWire community!
For more details about this week's core updates, including code samples and additional configuration settings related to the "tab" visibility options, be sure to check out the weekly update from Ryan at the support forum. Thanks!
Weekly forum highlights, tutorials, and other online resources
For this week we've gathered a list of support forum highlights and other useful and hopefully interesting resources. As always, please let us know if there's anything important we've missed, so that we can include it in one of our future issues.
In case you're looking for job opportunities, just a couple of extra highlights we've just come across: UK based company Warp Design is currently looking for a developer — or "captain of code" — to join their team, and there's also a request for German speaking ProcessWire freelancers at our support forum.
If you're interested in ProcessWire news, discussions, and updates, there's always something going on at the support forum. Since we're only able to include a tiny selection of all that in our weekly updates, head down to the forum for more.
Site of the week: Leonkoro Quartet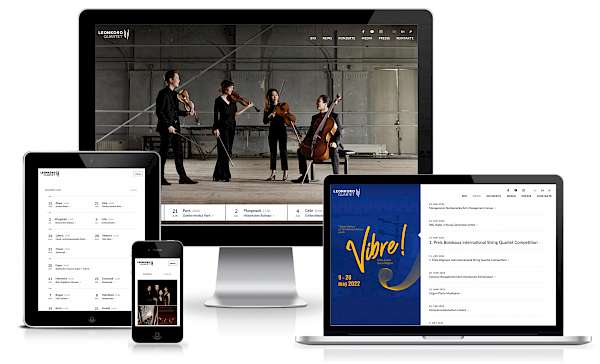 Our latest site of the week belongs to the Leonkoro Quartet, a string quartet founded in 2019 in Berlin.
The lineup of this award-winning quartet is Jonathan Schwarz (violin), Amelie Wallner (violin), Mayu Konoe (viola), and Lukas Schwarz (cello). Starting from fall 2022 they can be seen at some of UK's most prestigious venues and festivals, as well as heard on live and studio recordings on BBC Radio 3 as part of BBC's New Generation Artists.
The multilingual website of Leonkoro Quartet — which is available in German, English, and Japanese — was developed by Timo Hausmann, and consists of a bio of the band, news section, concert calendar, media and press information, and contact details. The design of this site is downright beautiful, and the user interface features, among other things, slick seamless transitions between pages.
As far as behind the scenes details go, one thing that sets this site apart is the tech stack it is built on: the front-end of the site is a Svelte powered SPA, the backend is powered by a headless ProcessWire setup. Communication between front-end and backend is managed via a simple, custom-built JSON API.
Big thanks to Timo Hausmann for sharing this project with us, and our congratulations to the Leonkoro Quartet for their new, ProcessWire powered website!
Stay tuned for our next issue
That's all for the 420th issue of ProcessWire Weekly. We'll be back with more news, updates, and content Saturday, 4th of June. As always, ProcessWire newsletter subscribers will get our updates a few days later.
Thanks for staying with us, once again. Hope you've had a great and productive week, and don't forget to check out the ProcessWire forums for more interesting topics. Until next week, happy hacking with ProcessWire!