In 421st issue of ProcessWire Weekly we'll check out the latest core updates, properly introduce a third party module called Email New User, and more. Read on!
Welcome to the latest issue of ProcessWire Weekly! In this week's issue we're going to check out the latest core updates, and introduce a third party module that has been around for quite a while, but hasn't yet been featured in our weekly issues — Email New User by Adrian Jones.
As always we're also going to highlight a new site of the week. This week that would be the newly released site of Wuppermann Group, which we briefly mentioned in the highlights section of our previous issue. This week we'll dig a bit deeper into this site, and share some interesting technical tidbits as well.
Thanks to all of our readers for being here with us again, and as always, any feedback is welcome – please don't hesitate to drop us a line if there's anything in your mind you'd like to share with us. Enjoy our latest issue and have a great weekend!
Latest core updates
This week's core updates — available via the ProcessWire dev branch at GitHub — were introduced by Ryan on a weekly update at the support forum. These updates include a couple of improvements for the ProcessWire admin interface:
The ProcessPageList module has received a new configuration setting, enabling superusers to select pages that will never be visible in the page list.
A new "Usage" section has been added to the "Basics" tab in the Field editor, per request #445, just like the one in the Template editor. This section provides info about templates and pages using the field you're currently editing.
While the usage section is a nice touch and improves consistency between the field and template editors, new ProcessPageList setting seems even more useful. Uncluttering the page list by hiding rarely edited pages is in itself a very nice feature, but it can also help avoid unintentional edits or removals of pages that exists for technical reasons (such as the form-builder page, in case you're using the Pro module FormBuilder).
That's all for our core updates section this week. For more details as well as some screenshots, be sure to check out the weekly update from Ryan. Thanks!
Introducing the Email New User module
Email New User is a module that, first and foremost, adds the option to send an email to newly added users with configurable welcome message. Other options provided by this module include the ability to automatically generate random passwords for new users and notifying site admins via email.
One thing that makes Email New User so flexible is how configurable it is: not only can you provide a custom message with placeholders (including field values from the user page), pretty much everything else about the message — such as the "from" address and sender name — is also configurable via the module config screen.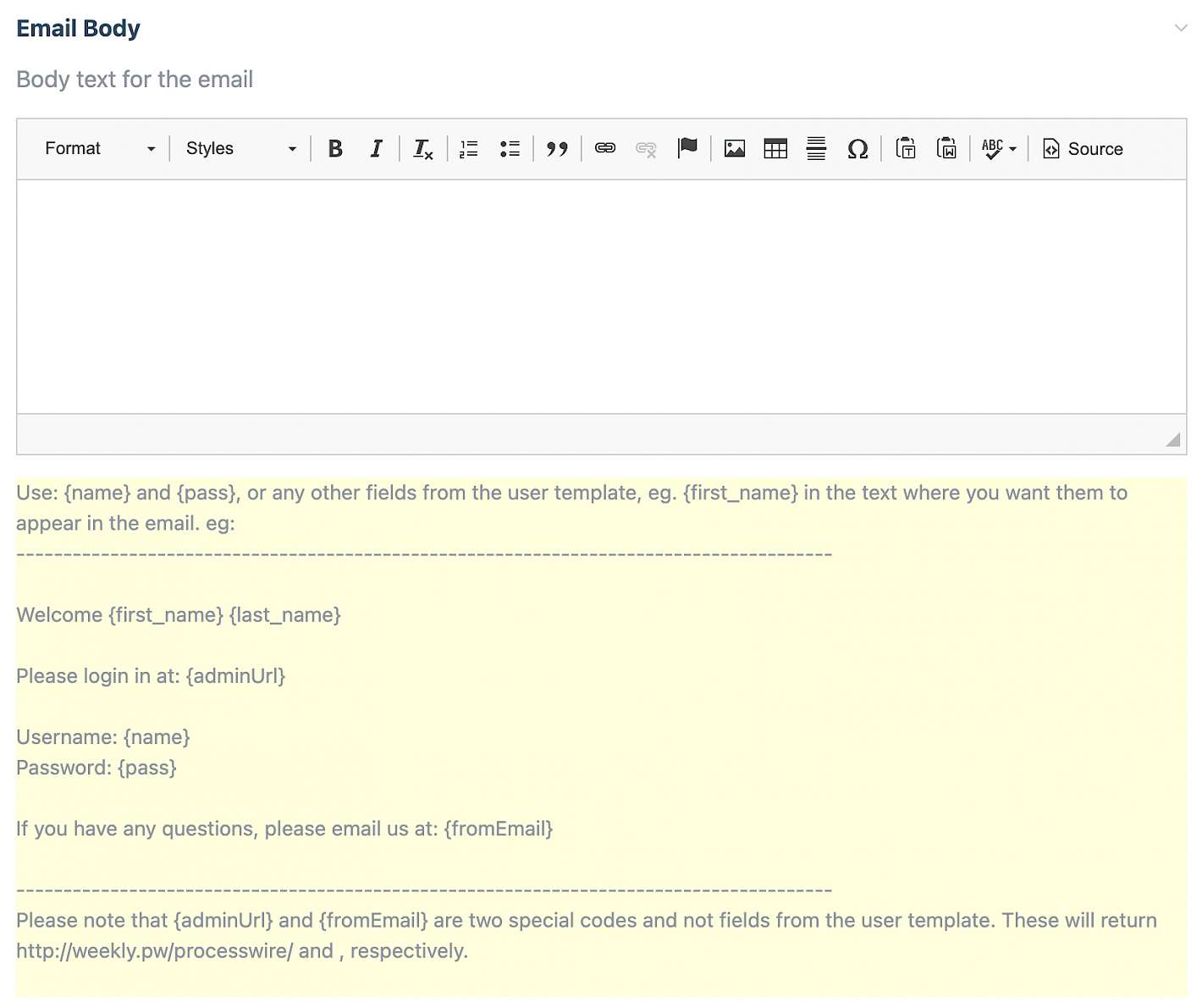 With this module enabled it's easy to add a nice touch of personality to your welcome messages, as well as make sure that any and all important details get included. And in case you require even more control over the message content, it's easy to customize it to your hearts content by hooking into the EmailNewUser::parseBody() method.
If you'd like to give this module a try, you can install it via the built-in module installer in the admin, or clone or download it from the EmailNewUser GitHub repository. Big thanks to Adrian Jones for developing and maintaining this wonderful module!
Site of the week: Wuppermann Group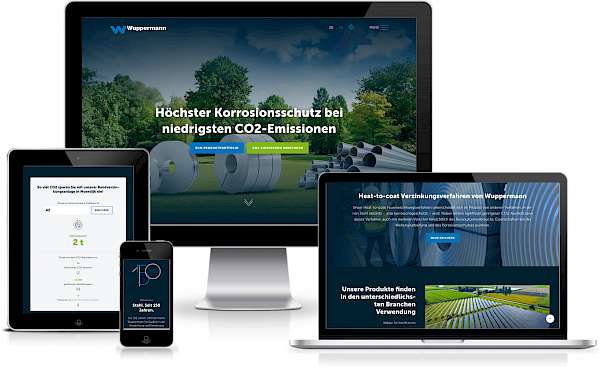 Our latest site of the week is that of the Wuppermann Group — a Germany based company offering quality steel products, and innovation leader in corrosion protection.
Founded in 1872, today the Wuppermann Group operates in the EU area, has around 800 employees, and provides products for a range of industries: construction, furniture and automotive industry, solar and energy technology, as well as the transport sector.
The website of Wuppermann Group was developed by Olaf Gleba based on the designs by C&G: Strategische Kommunikation GmbH. While the first thing to catch one's eye on this site is no doubt the design — which is very nice and modern — there's also plenty of quality content on this multi-lingual site, and performance is also top-notch.
The case story submitted by Olaf Gleba provides some much appreciated insight into what's going on behind the scenes, including details about the Repeater Matrix based content builder, as well as some screenshots of various parts of the site. ProcessWire modules in use include PrivacyWire, SearchEngine, Email Obfuscation, WireMail SMTP, and the Email New User module, just to mention a few.
Be sure to check out the case story for more details. Big thanks to Olaf for sharing this project with us, as well as preparing the case story for it — and our congratulations to the client, Wuppermann Group, for their new, ProcessWire powered website!
Stay tuned for our next issue
That's it for the 421st issue of ProcessWire Weekly. We'll be back with more news, updates, and content Saturday, 11th of June. As always, ProcessWire newsletter subscribers will get our updates a few days later.
Thanks for staying with us, once again. Hope you've had a great and productive week, and don't forget to check out the ProcessWire forums for more interesting topics. Until next week, happy hacking with ProcessWire!