In the 422nd issue of ProcessWire Weekly we'll cover this week's blog post from Ryan, take a quick look at a third party module called RockLanguage, and more. Read on!
Welcome to the latest issue of ProcessWire Weekly. In this week's issue we'll provide a quick sneak peek into a new blog post from Ryan, in which he walks us through typical steps involved in starting a new site project with ProcessWire's blank site profile.
In other news we're going to take a closer look at a brand new third party module from Bernhard Baumrock: RockLanguage. And, last but not least, we'll also be diving into a new site of the week — a growing directory of advertisements known as Ad Bank.
Thanks to all of our readers for being here with us again, and as always, any feedback is most welcome – please don't hesitate to drop us a line if there's anything in your mind you'd like to share with us. Enjoy our latest issue and have a great weekend!
In the processwire.com blog this week: starting a site with the blank profile
This week we've got a new blog post from Ryan, focusing on the steps one might take while getting started with ProcessWire's blank site profile. As you may remember, we dropped all the "extra" site profiles from the base installation a while ago, so if you decide to install a new ProcessWire site, the blank profile is where you'll likely start.
(You can, of course, still start your journey with any existing site profile, including those available via our modules directory — but the blank profile is a great way to start a new project, as it makes very few assumptions regarding what you're going to be building.)
So what's covered in the blog post?
Here are the main topics covered in this blog post:
Among other things this post will provide you basic understanding of the blank profile, helpful pointers on setting up a typical data structure (including custom fields) for a ProcessWire site, and a list of core modules you'll likely want to install or enable.
Stay tuned for more content...
There's a good chance that you'll learn something new from the post, so it's definitely worth checking out even if you're already an experienced ProcessWire user. That being said, Ryan also mentions (in the next steps chapter) that if there's interest, he'd like to publish a second part, in which he'll be able to dive even deeper.
Be sure to check out the weekly blog post, and please let Ryan know via comments or via the forum if you enjoy what you read, and especially if you'd like to get your hands on a sequel for this week's post. Thanks!
New module: RockLanguage
This week we're happy to introduce a brand new module from Bernhard Baumrock, called RockLanguage. As the name suggests, RockLanguage is a tool for dealing with translations, and more specifically with translations related to ProcessWire modules.
While ProcessWire natively ships with extensive language support, including the ability to ship module translations with the module itself, this does still require some manual work. That is exactly what RockLanguage aims to solve.
Here's what the module translation process looks like with RockLanguage:
Install RockLanguage on your site and (optionally) configure custom language code mapping via the module configuration screen.
Add a directory for the language you'd like to include translations for within your own module's directory, e.g. /site/modules/MyModule/RockLanguage/FI/ for the Finnish language.
Translate your module for said language via ProcessWire's translations manager. RockLanguage will automatically notice the update and duplicate the translation file from its original source to the directory you've just created.
Now if you install this module to another site with the language folder included, and the site has RockLanguage installed and Finnish as one of its languages, the translation files for your module will be automatically synced with ProcessWire.
What's nice about this workflow is that it takes some manual steps out of the equation, thus streamlining translation management. It's too early to say how widely this module will be adopted among public third party modules, but if you like the concept, you can easily start using it for your own modules right away.
If you have any questions, feel free to visit the RockLanguage support forum thread. If you'd like to give this module a try right away, you can do it by cloning or downloading the module from the RockLanguage GitHub repository.
Big thanks to Bernhard for yet another useful and interesting contribution to the ProcessWire community!
Site of the week: Ad Bank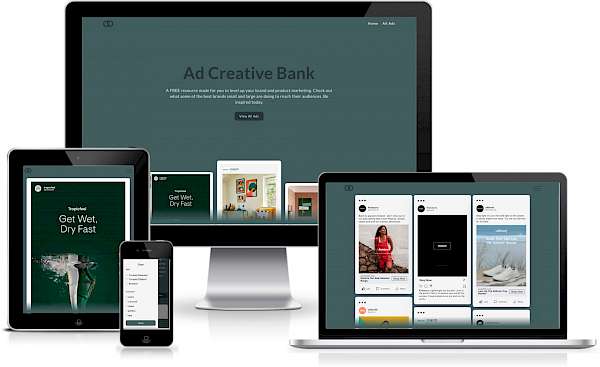 Our latest site of the week is a new project called Ad Bank. This site, created by Liam Hooper, is essentially a library of ads from numerous brands, showcased in a simple and intuitive UI.
Main content of the site is indeed the growing database of ads from various sources. Currently there are nearly 500 ads here, so it's already quite a lot to browse. There's also a handy filter feature for those keen on finding specific types of ads for some inspiration — or simply to sate their curiosity.
Ad Bank is a marketing creative hub showcasing some of the worlds best marketing creatives.

— Sites directory entry for Ad Bank
As for behind the scenes details, it appears that the site is largely custom built, so no full-blown front-end framework here. The site has quite a few JavaScript dependencies, though — all the way from general purpose jQuery to lazysizes and other more specific ones, such as Embla Carousel and Colcade for the masonry style layout. There are no publicly visible Processwire modules here, so not much we can tell about the backend.
Big thanks to Liam Hooper for sharing this project with us. Ad Bank is a very interesting source of material for anyone interested in — or professionally involved with — ads, so definitely worth checking out!
Stay tuned for our next issue
That's it for the 422nd issue of ProcessWire Weekly. We'll be back with more news, updates, and content Saturday, 18th of June. As always, ProcessWire newsletter subscribers will get our updates a few days later.
Thanks for staying with us, once again. Hope you've had a great and productive week, and don't forget to check out the ProcessWire forums for more interesting topics. Until next week, happy hacking with ProcessWire!