In the 433rd issue of ProcessWire Weekly we'll dive into the latest core and module updates, check out a new site of the week, and more. Read on!
Welcome to the latest issue of ProcessWire Weekly. This week we're going to check out the latest core updates, talk a bit about a new version of the FormBuilder module, and share the latest highlights from the support forum.
As for our latest site of the week, this time we're going to feature a very interesting new microsite designed and developed by schwarzdesign for a research project by DOMiD, the Documentation Center and Museum of Migration in Germany. More details about the project itself and how their site was created in just a bit.
Thanks to all of our readers for being here with us again, and as always, any feedback is most welcome – please don't hesitate to drop us a line if there's anything in your mind you'd like to share with us. Enjoy our latest issue and have a great weekend!
ProcessWire 3.0.204 and a new version of the FormBuilder module
There are a couple of topics covered in the latest weekly update from Ryan; new core version, and new version of the commercial FormBuilder module. First of all, here's a summary of what's new in the core this week:
Addition of new renderFlags option for Inputfields. Default value for this option is "0", but setting it to "1" will make sure that the inputfield is rendered before other inputfields, and setting it to "2" places the inputfield after other inputfields.
Support for defining classes for specific parts of the rendered inputfield (wrapper, header, content, and input) via a string value provided to a single method call: $inputfield->addClass('wrap:card, header:card-header, content:card-body').
Fix for issue #1611, where multi-language fields in repeaters were not saving properly when the site only has a single language.
Additional updates for core level PHP 8.1 support.
As for the new FormBuilder release (v53), this version includes various improvements, the biggest of which is likely the inclusion of new version of the FormBuilderFile field. This update adds a new preview option for images, the ability to request a description for each uploaded file, improvements for multi-file inputs, and more.
That's all for our core updates section this week. For more details, be sure to check out the weekly update from Ryan. Thanks!
Weekly forum highlights, tutorials, and other online resources
For this week we've gathered a list of support forum highlights and other useful and hopefully interesting resources. As always, please let us know if there's anything important we've missed, so that we can include it in one of our future issues.
Those were our highlights for this week's issue, but there's one more thing to add: our weekly poll from last week's issue is still open, so if you haven't answered yet, feel free to do it now. This poll is about the PHP versions you use to host ProcessWire powered projects, and answering it will only take a moment. Thanks in advance!
If you're interested in ProcessWire news, discussions, and updates, there's always something going on at the support forum. Since we're only able to include a tiny selection of all that in our weekly updates, head down to the forum for more.
Site of the week: DOMiD Labs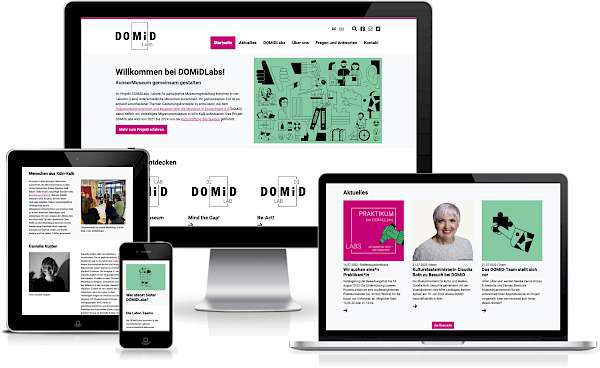 Our latest site of the week is that of DOMiD Labs — a project by the Documentation Center and Museum of Migration in Germany (DOMiD).
DOMiD Labs is a project led by DOMiD and sponsored by the German Federal Cultural Foundation. This project brings together people in four labs, developing design concepts and content around a variety of topics and questions, ultimately helping DOMiD develop an engaging new museum in the Kalk district of Cologne.
The DOMiD Labs website is a tight package consisting of an introduction to the project and the labs, FAQ section, news, and a contact page. Design wise this site is clean and simple, with a set of colorful, hand-drawn graphic elements to liven things up. As for behind the scenes details, here are some highlights from the showcase forum post:
Content of the site is created using a modular content builder, which in turn is powered by the commercial Pro module Repeater Matrix.
The contact form was built using the commercial Pro module Form Builder.
The site is multi-lingual (content is available in German and English), and has a custom translation management solution for managing interface translations.
Configurable navigation and footer components, a blog area with a paginated news index page, and more.
Thanks to the folks at schwarzdesign for sharing this brilliant project with us, and our congratulations to DOMiD for their new ProcessWire powered website. Great work from everyone involved in this project!
Stay tuned for our next issue
That's all for the 433rd issue of ProcessWire Weekly. We'll be back with more news, updates, and content Saturday, 3rd of September. As always, ProcessWire newsletter subscribers will get our updates a few days later.
Thanks for staying with us, once again. Hope you've had a great and productive week, and don't forget to check out the ProcessWire forums for more interesting topics. Until next week, happy hacking with ProcessWire!