In the 443rd issue of ProcessWire Weekly we're going to cover the latest core updates, highlight recent ProcessWire online resources, and more. Read on!
Welcome to the latest issue of ProcessWire Weekly! In this week's issue we are going to check out the latest weekly update from Ryan — in which he provides a status update for the TinyMCE inputfield — as well as the latest dev branch core updates.
In other news we'll highlight some new ProcessWire online resources, and last but not least introduce a brand new site of the week; one that belongs to the web design and development agency Thumann Media from Itzehoe, Germany.
Thanks to all of our readers for being here with us again, and as always, any feedback is most welcome – please don't hesitate to drop us a line if there's anything in your mind you'd like to share with us. Enjoy our latest issue and have a great weekend!
Weekly update from Ryan and a new version of InputfieldTinyMCE
This week we have a brief weekly update from Ryan at the support forum. In his post Ryan focuses on the soon-to-be-core TinyMCE Inputfield module, the initial version of which was made available (currently as a separate installation) little over a week ago.
Inputfield TinyMCE 6.0.3
Thanks to some of you already putting the TinyMCE module to test and reporting issues Ryan has been able to pinpoint and fix some initial glitches, and there have also been a few feature updates, putting current version of the module (as of this writing) to 6.0.3.
There will likely be a few more minor versions of the module before it is added to the core, and we would very much appreciate it if you could take the time to download it and give it a try (if you haven't already). If you run into any problems, or feel that the module is lacking something, please let us know via GitHub or the support forum.
Weekly core updates
In addition to aforementioned updates for the TinyMCE module, there have also been a few updates to the ProcessWire dev branch at GitHub this week. Here's a brief summary of said weekly core updates:
A fix for an issue where the Module::upgrade() method was not being called as unless it was declared as hookable (___upgrade()).
A fix for an issue where the default language was not being correctly set for newly created users.
A fix for an issue where bulk updates within comments manager were not working as expected.
Removal of a few remnants of TinyMCE 3 compatibility features from the Repeater inputfield JavaScript file.
That's all for our core updates section this week. For more details, be sure to also check out the weekly update from Ryan at the support forum. Thanks!
Weekly forum highlights, tutorials, and other online resources
For this week we've gathered a list of support forum highlights and other useful and hopefully interesting resources. As always, please let us know if there's anything important we've missed, so that we can include it in one of our future issues.
If you're interested in ProcessWire news, discussions, and updates, there's always something going on at the support forum. Since we're only able to include a tiny selection of all that in our weekly updates, head down to the forum for more.
Site of the week: Thumann Media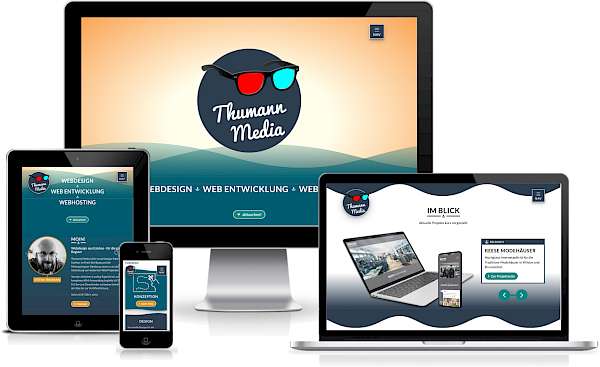 Our latest site of the week is Thumann Media. This site belongs to the Itzehoe, Germany based frontend developer Stefan Thumann, and was introduced earlier this week via a showcase forum thread.
The Thumann Media website could be described as a typical website for a small business, containing a brief introduction, some reference projects, and contact details. That being said, everything on this site feels nicely put together, the reference pages in particular were interesting to read, and the fun maritime type theme — combined with various animations — make browsing this site a very enjoyable experience.
From the showcase forum thread we know that the frontend of this site is powered by the Bootstrap frontend framework, and animations were implemented using the AOS library. Third party ProcessWire modules used on this site include ProFields Repeater Matrix and Combo, PageimageSource, AIOM+, SEO Maestro, and WireMail SMTP.
Big thanks to Stefan Thumann for sharing this project with us — this is a really nice site, and it was interesting to read about the background of the project and the tools used while developing it. Splendid work!
Stay tuned for our next issue
That's it for the 443rd issue of ProcessWire Weekly. We'll be back with more news, updates, and content Saturday, 12th of November. As always, ProcessWire newsletter subscribers will get our updates a few days later.
Thanks for staying with us, once again. Hope you've had a great and productive week, and don't forget to check out the ProcessWire forums for more interesting topics. Until next week, happy hacking with ProcessWire!