In the 474th issue of ProcessWire Weekly we'll cover the latest core updates, share a list of recent forum and online highlights, and more. Read on!
Welcome to the latest issue of ProcessWire Weekly. This week we'll take a quick look at the latest core updates, and share a list of new weekly highlights, including a new and very interesting third party module and a few other resources.
As always we'll also introduce a new site of the week, and this week that would be the truly unique single-page site full of interesting details and complete with a built-in minigame: the portfolio of creative, designer, and developer Helder Cervantes.
Thanks to all of our readers for being here with us again, and as always, any feedback is most welcome – please don't hesitate to drop us a line if there's anything in your mind you'd like to share with us. Enjoy our latest issue and have a great weekend!
Latest core updates: ProcessWire 3.0.220
The latest development version of ProcessWire, 3.0.220, was introduced in a weekly update from Ryan at the support forum. As Ryan explains in his post, this version is primarily focused on resolving reported issues, taking care of a total of 11 issues.
Among other things this release fixes issues related to saving user TFA settings, recent modules system updates, handling selector strings in WireCache, and Repeater display labels. Additionally there's at least one update improving core PHP 8.2 support.
That's all for our core updates section this week. More details can be found from the weekly commit log for the dev branch at GitHub. Thanks!
Weekly forum highlights, tutorials, and other online resources
For this week we've gathered a list of support forum highlights and other useful and hopefully interesting resources. As always, please let us know if there's anything important we've missed, so that we can include it in one of our future issues.
If you're interested in ProcessWire news, discussions, and updates, there's always something going on at the support forum. Since we're only able to include a tiny selection of all that in our weekly updates, head down to the forum for more.
Site of the week: Helder Cervantes 2023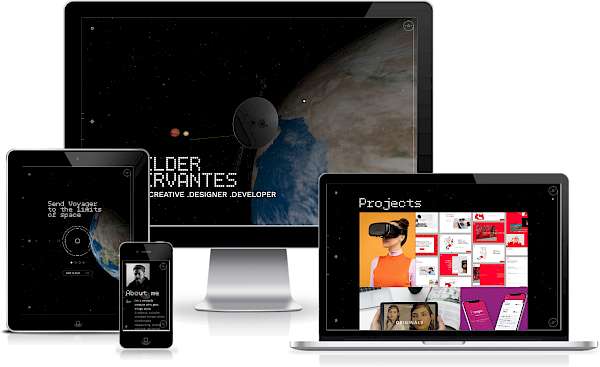 Our latest site of the week is a brand new, 2023 iteration of the online CV for Helder Cervantes — a creative, a designer, and a developer with a wide and varied skillset and experience from numerous projects large and small.
This site is a single-pager, but has so much interaction and content that it feels like a much larger experience: every move results in some kind of reaction, and there's even a fun little minigame baked right into the site. All in all, as far as portfolio websites go, this is one of the most interesting ones we've come across so far; we can definitely recommend checking it out for yourself.
My last CV, along with my Supertiny agency's website share this space exploration / alien contact theme, so the idea here was to incorporate a journey through space as the user scrolls through the website.

— Helder Cervantes
As for behind the scenes details, this site is obviously powered by ProcessWire, but as Helder explains in a showcase forum post the ProcessWire part is straightforward: it is used to manage logo elements, handle SEO content, and store statistics for the game. Meanwhile, the front-end of the site is powered by Tailwind and three.js.
Big thanks to Helder for sharing this project with us. It's a brilliant site, and we're thrilled to have it featured in our sites directory, as well as this weekly issue!
Stay tuned for our next issue
That's all for the 474th issue of ProcessWire Weekly. We'll be back with more news, updates, and content Saturday, 17th of June. As always, ProcessWire newsletter subscribers will get our updates a few days later.
Thanks for staying with us, once again. Hope you've had a great and productive week, and don't forget to check out the ProcessWire forums for more interesting topics. Until next week, happy hacking with ProcessWire!