Issue #48 of ProcessWire Weekly is here with the latest news and updates from the ProcessWire community. Read on!
After all the amazing contributions and core updates last week, this has been a relatively quiet week. We do, though, have some neat new core updates to share, one new module to introduce, and a brand new site of the week to explore. This time we're also taking a quick look at some ProcessWire tutorials.
Hope you've had a great week so far, and hope you enjoy our weekly updates! As always, if you notice anything we've missed or misinterpreted, please let us know via the feedback form. Any and all feedback is most welcome.
Now, let's get this thing started!
Summary of the weekly core updates
This week our lead developer, Ryan Cramer, has been busy enjoying the spring break with the family. Doesn't mean that we wouldn't have any news to share here, though; there's been a lot of issue-related action in GitHub, and some neat core updates got pushed in too.
To summarize Ryan's latest core updates blog post, we've got following new or updated features to present this week:
Built-in support for selecting the content-type a template should be served with.
The content-type can be selected from a pre-defined list of types, optionally customized via $config->contentTypes in your /site/config.php file. While defining a content-type has always been possible using PHP's header() function, this method is also compatible with the caching methods provided by ProcessWire.
New version of ProCache has been released, adding support for content-types.
Version 2.0.2 of the commercial ProCache module developed by Ryan adds support for the new core-level content-type settings. While by no means necessary, compared to the built-in caching options ProCache provides a very nice speed boost for sites with serious performance requirements.
Optionally displaying PageList actions on hover instead of on click.
This update adds a new configuration option for showing actions ("edit", "view", "move", etc.) in PageList on hover. Earlier they were only displayed after a click of a page, which also triggered asynchronous loading of the children of said page, and thus could cause unnecessary delay in some cases. You can configure this via a new $config->pageList option in your /site/config.php file.
This week has been about fixing bugs, closing issues, and just overall getting things ready for the release of ProcessWire 2.6. Ryan is also on new versions of the commercial ListerPro and FormBuilder modules, in addition to a yet-to-be-released ProDrafts module – hopefully we can share a bit more about those in the coming weeks too.
For more details and usage instructions for the additions listed above, head down to the latest processwire.com blog post by Ryan. As a small reminder, in addition to subscribing to our weekly newsletters, you can also subscribe to the RSS feed of the processwire.com blog.
Dice Captcha is a new spam-prevention module for your ProcessWire forms
For those looking for captcha options, look no further, as the Dice Captcha module provides an easy-to-use and relatively unobtrusive approach out of the box. Developed by Roman Seidl, this module is very easy to implement in any custom forms, and also easy to customize to fit the look and feel of your site.
While there are various spam-prevention techniques that don't require any action from regular users, sometimes a captcha is still what you want. The upside of the Dice Captcha, compared to a classic text-based captchas, is that users don't have to interpret any weirdly typed letters. They do have to be able to calculate the sum of a few dice, though.
Thanks to Roman for sharing this module with us, and congratulations for your first modules directory subscriptions!
New video tutorial: Adapting WordPress Sage starter theme to ProcessWire
Jonathan Lahijani has just released a new ProcessWire video tutorial outlining the process of adapting the WordPress Sage starter theme to ProcessWire. In addition to showcasing the flexibility of the system, this tutorial is helpful if you're looking for new tips on developing sites with ProcessWire, or perhaps even looking to converting a WordPress theme to ProcessWire:
While we're discussing the topic of tutorials, don't forget to check out the official tutorials available at processwire.com. These are in text format and were mostly written by Ryan Cramer and Joss Sanglier, with the troubleshooting guide provided by Nico Knoll.
If you're more into video tutorials, you might want to check out the tutorials recorded by Philipp Reiner. His first video tutorial mainly goes through the basics of the system and the simple template-level stuff, while the second one goes one step further and discusses repeating elements. Both tutorials are quite informative and well-made!
Site of the week: RECESS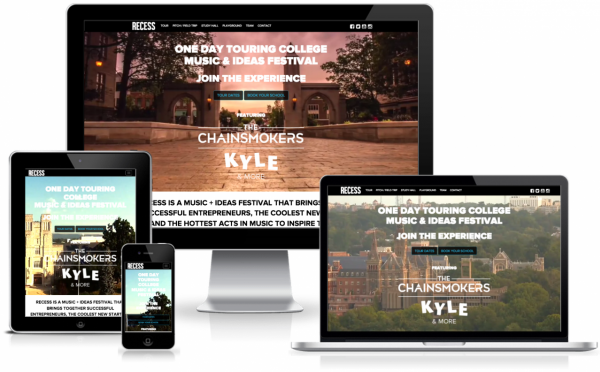 RECESS is a music + ideas festival touring campuses and connecting students, entrepreneurs, brands, and artists in an attempt to inspire and support a new generation of startups.
Shark-tank style pitch competition, inspiring speakers, and an opportunity for networking are the key points this festival has to offer – in addition to hot music acts, of course.
The site of RECESS features some pretty big and bold elements, such as an almost-full-screen video right at the top of the home page. Overall the design looks neat and contains quite a few specifically designed content areas, while still holding on to a clean and uncluttered look. The site is also responsive, and while the video elements mean it's somewhat on the heavy side in its entirety, it feels downright enjoyable to browse and use.
Thanks to Jonathan Lahijani for sharing this splendid site with us, and appreciate the "Powered by ProcessWire CMS" link at the bottom of the site too. Great work, Jonathan!
Stay tuned for our next issue
That's it for the 48th issue of ProcessWire Weekly. We'll be back with more news, updates, and content next Saturday, 18th of April. As always, ProcessWire newsletter subscribers will get our updates a few days later.
Thanks for staying with us, once again. Hope you've had a great and productive week, and don't forget to check out the ProcessWire forums for more interesting topics. Until next week, happy hacking with ProcessWire!