In the 488th issue of ProcessWire Weekly we'll check out what's new in the core this week, introduce a new third party module by Neue Rituale, and more. Read on!
Welcome to the latest issue of ProcessWire Weekly! In this week's issue we're going to share the latest core development news, briefly introduce the latest versions of some popular Pro modules, and take a closer look at a new third party module by Neue Rituale — Process Cron Jobs.
As always we've also got a new site of the week to highlight, and this week that would be the newly released website for an organisation for German puppet stages, Verband Deutscher Puppenspieler e.V. More about this very interesting project in just a bit, so keep on reading.
Thanks to all of our readers for being here with us again, and as always, any feedback is most welcome – please don't hesitate to drop us a line if there's anything in your mind you'd like to share with us. Enjoy our latest issue and have a great weekend!
ProcessWire 3.0.227 and new Pro module versions
This week we have a new version of the stable/master branch of ProcessWire, 3.0.227, and Ryan has also released new versions of many of the commercial Pro modules, available via their respective support forums for those who have purchased them. Here's a list of updated modules from the latest weekly update by Ryan:
FormBuilder (v55)
ProCache (4.0.5)
ProMailer (v13)
ProDrafts (v10)
ProDevTools Form Auto Saver and Reminder, also posted in FormBuilder (v3)
ProDevTools Page Auto Saver and Live Preview (v8)
ProFields Combo (v12)
ProFields RepeaterMatrix (v11)
ProFields Table (v25)
ProFields Verified URL (v6)
ProFields Textareas (v10)
ProFields Multiplier (v15)
Moving on to core updates, a new stable version 3.0.227 was released earlier this week. Compared to 3.0.226, released a few weeks ago, this version contains mainly bug fixes and miscellaneous minor improvements. There's nothing particularly critical here, but definitely a recommended update for those who already made the jump to 3.0.226.
It looks like we'll be pushing another new master release out pretty soon, and there are already a couple of small bug fixes in the dev branch, waiting to be merged. Additionally Ryan is working on getting the rest of his Pro modules updates in the next few weeks.
That's all for our core updates section this week. Feel free to check out the weekly dev branch commit log for more details, and be sure to also read the weekly update from Ryan at our support forum. Thanks!
New module: Process Cron Jobs
ProcessCronJobs is a brand-new third party ProcessWire module, built and published by the Berlin based design studio Neue Rituale. This module provides a way for registering cron jobs, an admin view that lists all registered cron jobs, and an option to manually execute individual cron jobs. It also keeps track of the last execution time and status, and in case of an error the last error message, for each task.

Here's a list of features from the modules directory entry for the ProcessCronJobs module:
Clear overview of all registered CronJobs
Easy to set timing (onInit or onReady) and delay (LazyCron)
Individual path (endpoint) that executes the CronJobs. Configuration of a secret path segment and additional path segments (namespaces) for selected CronJobs.
Display of the time of the last execution and any error messages
If you'd like to give this module a try, you can install it via the built-in modules manager in the admin, or clone or download the module's source code from the ProcessCronJobs GitHub repository. If you require additional assistance or have any questions, be sure to visit the ProcessCronJobs support forum thread.
Big thanks to Neue Rituale for sharing yet another very useful module with us. Keep up the great work!
Site of the week: Verband Deutscher Puppenspieler e.V.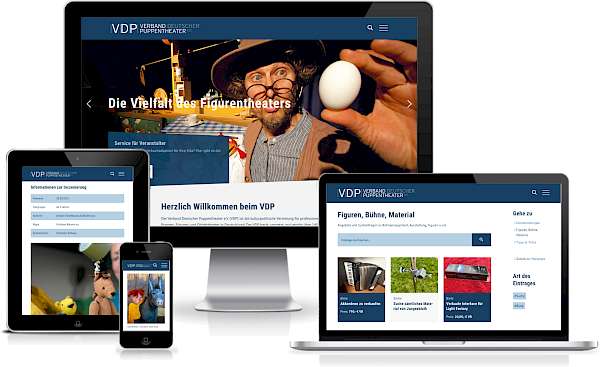 Our latest site of the week belongs to an organisation called Verband Deutscher Puppenspieler e.V. — the association of German puppet theaters. They represent and provide advice and various services for their member stages, of which there are currently over 140.
The ProcessWire powered website of VDP was developed by Olaf Gleba and recently introduced in a rather detailed showcase forum thread at the ProcessWire support forum. The showcase thread provides tons of information about how this site was set up, what the backend looks like, and how certain features related to the marketplace were put together. There are code samples as well, so be sure to check it out.
In addition to a very clean and user-friendly design, this site features plenty of content, the marketplace is indeed a very nice addition, and the list of productions — complete with free text search and category filtering options — is quite comprehensive as well.
While the front-end of the site looks like it was mostly hand-crafted, certain third party ProcessWire modules are used behind the scenes to power various features of the site. Some of such modules — mentioned in the showcase forum thread or spotted in action on the site — include Admin Restrict Branch, Custom Admin Menus, Email Obfuscation (EMO), and SearchEngine.
Big thanks to Olaf Gleba for sharing this site with us, and our congratulations to the client for their new, ProcessWire powered website — it's looking very nice indeed!
Stay tuned for our next issue
That's it for the 488th issue of ProcessWire Weekly. We'll be back with more news, updates, and content Saturday, 23rd of September. As always, ProcessWire newsletter subscribers will get our updates a few days later.
Thanks for staying with us, once again. Hope you've had a great and productive week, and don't forget to check out the ProcessWire forums for more interesting topics. Until next week, happy hacking with ProcessWire!