50th issue of ProcessWire Weekly brings in all the latest news from the ProcessWire community. Modules, sites, and more. Read on!
We've been keeping you up to date with lists of core improvements and additions aimed for ProcessWire 2.6 for the past six months. All those features are going hit the stable branch of ProcessWire very soon, and we're extremely excited about that. To quote something that Ryan said in his latest blog post: "Thanks to all of you this will be our best ProcessWire release yet!"
In addition to what just might be the last bunch of core updates before we hit the stable milestone, we've got some new and revisited modules to introduce, and we're also taking a look at another splendid example of a site powered by ProcessWire.
All in all, it's been another great week, and we hope you'll enjoy our weekly update – as much as we enjoyed writing it!
Latest ProcessWire core updates (2.5.28)
Here's what's been happening in the development branch this week, brought to us by the latest blog post by Ryan:
ProcessWire 2.6 might be coming out as soon as next week. The development branch is currently in a feature freeze, and hopefully this time next week we'll already have a stable release of ProcessWire 2.6 to check out!
New capabilities of WireCache (i.e. the $cache API variable) include a cleaner syntax for generating cache via anonymous functions (closures), caching PageArray objects, and fetching all caches matching a wildcard.
SystemNotifications is now able to notify you if you're editing a page already opened for editing by someone else – or you yourself. The purpose of this feature is to prevent accidental, conflicting edits of a single page.
Additionally there was one relatively small but often-asked-for feature addition this week to the ProcessPageEdit module: you can now configure the "view" link to open in a new window. For more details, take a look at the $config->pageEdit array in your /wire/config.php file.
That's it for this weeks core updates – hopefully we'll have more details about 2.6 by next week!
The Yahoo! Weather module revisited
The Markup Yahoo! Weather module by Nikola Vidoni has just been relaunched as an improved and completely rewritten version. The main feature of this markup module is still displaying weather widgets on the front-end of your site, and that's the one thing it does extremely well.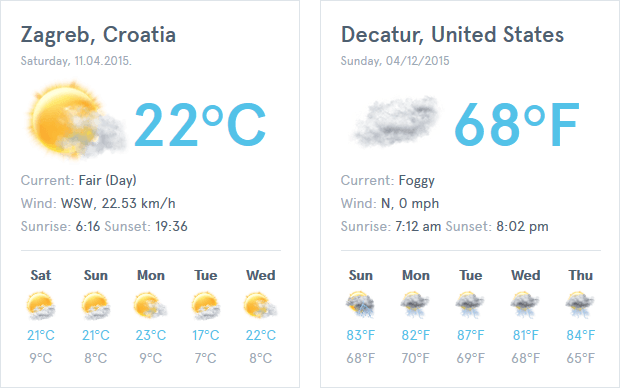 This module includes a whole bunch of configurable display options, and even a built-in caching feature to help you avoid hitting the limits set by Yahoo! on high-traffic sites. All things considered, it's a formidable candidate if you ever need to embed weather widgets and want to get the job done without any unnecessary hassle.
Thanks to Nikola for releasing this module – both the original version and the revisited one are splendid examples of the kind of tasks that markup modules can be effectively used for!
Leaflet Map Marker is an alternative to the Map Marker module
Leaflet Map Marker, built by Mats Neander, is an alternative to the Map Marker module Ryan released a few years ago. The biggest difference there at the moment is that Leaflet Map Marker, as the name suggests, uses Leaflet maps instead of Google Maps.
According to the author, this module started out as an example of putting together a Fieldtype and Inputfield combination that holds multiple pieces of data, but has since then evolved into a quite full-featured module of it's own.
In addition to a fieldtype and an inputfield, Leaflet Map Marker also includes an optional markup module for outputting Leaflet maps on the front-end of your site. For more details, check out the GitHub repository of the module. The README file contains a more detailed introduction to the modules bundled into Leaflet Map Marker, and an extensive guide to setting them up and using them on your own site.
Thanks to Mats for releasing this module – it's a great addition to our modules collection, and a very nice alternative to the original Map Marker module!
Recent Support Forum highlights
Once again, we wanted to share a few recent highlights from the ProcessWire Support forum with you. Below you'll find a list of a few topics that have caught our eye, in no particular order:
There are lots of interesting discussions going on at the support forums on a daily basis, and we're only able to include a tiny selection of all that in these weekly updates. If you haven't signed up already, do it now and join the discussion!
Site of the week: Castle Marienburg
This time our site of the week introduces a historic tourist attraction located right next to Hannover, Germany – Castle Marienburg. Originally a birthday present from King George V of Hanover to his wife Queen Marie, this 19th-century masterpiece is described on the site as the fairy-tale Castle of the Guelphs.
The newly relaunched site, on the other hand, was built by Neuwaerts, and has both a look and feel to match perfectly the beautiful historic castle it's built to showcase. The site also manages to make use of various web design and development best practices and boasts a very functional responsive design, which perfectly adapts to all screen sizes.
If you'd like to learn more about this site, we'd suggest visiting the forum post by Felix Wahner that introduced this site to us in the first place. According to him, more details might follow if there's enough interest, and we're definitely looking forward to that.
A big "thank you" to Neuwaerts for providing us with another splendid example of ProcessWire in action. Your work continues to inspire us, and we hope to see more of it in the future!
Stay tuned for our next issue
That's it for the 50th issue of ProcessWire Weekly. We'll be back with more news, updates, and content next Saturday, 2nd of May. As always, ProcessWire newsletter subscribers will get our updates a few days later.
Thanks for staying with us, once again. Hope you've had a great and productive week, and don't forget to check out the ProcessWire forums for more interesting topics. Until next week, happy hacking with ProcessWire!