56th issue of ProcessWire Weekly brings in all the latest news from the ProcessWire community. Modules, sites, and more. Read on!
Welcome back to ProcessWire Weekly – hope you've had a great week so far, and a relaxing (and/or productive) weekend ahead. Once again we're going to start off with our regular core updates topic, then walk you through the latest module additions – and finally introduce a new site of the week.
We hope you enjoy our weekly update, and if there's anything you want us to know, please don't hesitate to drop us a line via the feedback form!
Latest core updates: more permissions!
Core updates of the week, as outlined by Ryan in his latest blog post, are (again) all about permissions. Last week we introduced the all-new field level permissions, and this time Ryan has taken the permission system of ProcessWire even further, adding a whole new concept of language page edit permissions.
In a nutshell the page edit language permissions allow you to grant (or deny) edit access to page fields on a per-language basis. For an example, if you wanted to give a specific role edit access to the Spanish version of your site, you could simply define a new page-edit-lang-es permission, and give it to said role.
Ryan has also added a brand new page-rename permission, which allows you to control which roles can rename pages using given template. This is a much-needed addition for cases where a given page shouldn't be renamed, i.e. when you're referring to it by it's name in template files etc.
For a comprehensive guide to the new permissions outlined here, and other "special permissions" that ProcessWire already provides, we'd suggest taking a closer look at the latest blog post at processwire.com.
Fieldtype Star Rating by Raymond Geerts is a new fieldtype and inputfield bundle
Fieldtype Star Rating, a brand new module by Raymond Geerts, and as of this writing the latest addition to the modules directory, is.. well, a fieldtype for handling star ratings. A fieldtype and an inputfield, actually, and a rather big part of the appeal of this module is the addition of a visual star selection interface.
The amount of stars can be configured via module settings within a range of 1-10, the default value being 5 stars. The inputfield looks pretty neat, and also provides a reset button for resetting the value of the field to 0.
That's just about all there is to this module, really – it's a simple and functional module fulfilling an obvious need in a clean and user-friendly way. What else could we ask for? Big thanks to Raymond for sharing this module with us!
An example of a very simple module built to fulfil a specific purpose: HelloBrowser
HelloBrowser by Martin Freudenreich is a good example of how easy and straightforward building modules for ProcessWire really can be. This module embeds the Browser-Update.org script to any given page – or at least any page with a </body> closing tag – with a few humble lines of code. There's nothing fancy here, but if that's the kind of feature you're looking for, this is an easy way to get it done.
It's not like you couldn't perform similar task just as easily by modifying your templates, and this isn't the first module to embed content (JavaScript or not) by replacing a specific portion of the page with something different. Regardless, this module is a good reminder that sometimes the simplest module imaginable can still be quite useful.
Congratulations to Martin for your first module (that we know of, at least). Keep 'em coming!
Site of the week: F4D Studio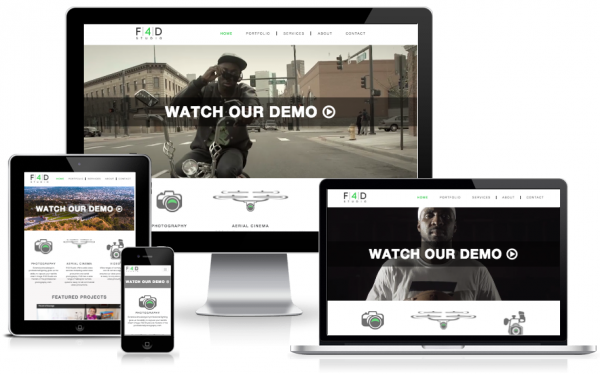 Our latest site of the week belongs to ​F4D Studio, a boutique production house from Denver. F4D Studio specializes in capturing and producing high-quality HD cinema and photography for film, TV, digital and commercial outlets.
After seeing some of the work samples in the portfolio on their site, it's not much of a surprise that they can proudly list huge brands like The New York Times and Atlantic Records as their partners. It's a well-known fact, after all, that real artists always stand out – no matter what they do or which industry they work in.
Designed by Evan Farrell and built by Jonathan Lahijani, the site itself is a combination of simplicity, good design, and well-thought functionality. Regardless of your screen size, it just works, and loading heavier content – such as the intro video playing on the home page – for larger screen sizes only, it has a very fast and snappy feel to it too.
Thanks to Jonathan and Evan (and the F4D Studio, of course) for sharing this site with us. Not only does it look and feel great, there's also a lot of great content to enjoy – magnificent work!
Stay tuned for our next issue
That's it for the 56th issue of ProcessWire Weekly. We'll be back with more news, updates, and content next Saturday, 13th of June. As always, ProcessWire newsletter subscribers will get our updates a few days later.
Thanks for staying with us, once again. Hope you've had a great and productive week, and don't forget to check out the ProcessWire forums for more interesting topics. Until next week, happy hacking with ProcessWire!