57th issue of ProcessWire Weekly brings in all the latest news from the ProcessWire community. Modules, sites, and more. Read on!
Welcome back to our weekly news – this time, in addition to our regular core updates section, we've got two fantastic modules and a very nice site of the week to introduce. Once again it's been a busy week around here, and our community seems as lively as ever!
Now, without further delays, we're going to go straight into business. We hope that you enjoy our latest weekly issue, and if there's anything you'd like us to know, please don't hesitate to drop us a line via the feedback form. Have a great weekend!
Core updates of the week, and a new version of the ProFields Table field
This week, as explained by Ryan in his latest blog post at processwire.com, the bulk of the core updates were related to the release of a new version of the commercial ProFields Table module. Since the weekly processwire.com blog post mentioned above is all about PageTable updates, here's a list of those for your convenience:
Support for unlimited number of table columns, with wider than 100% tables automatically converted to a kind of a fieldset (instead of plain old table rows, which would obviously have some trouble representing very complex data structures)
Support for both single and multi value Page-reference fields, with available inputfields ranging from radio buttons to asmSelect (autocomplete support is on its way)
Support for rich text fields via the built-in CKEditor module; note, though, that this feature requires the latest version of the ProcessWire core package (2.6.4) to work!
Support for multi-language text fields (text, textarea, and CKEditor) with separate language values cleanly displayed on their own tabs
Other notable updates to the Table field include new help texts for most column setting properties, support for multi-language column labels (a much-needed addition for multi-language sites), improved support for selecting Table field properties within Lister and ListerPro, and support for select-multiple options field as an alternative to checkboxes.
More details can be found from Ryan's weekly blog post, so head down there if you're interested in hearing more about the very powerful ProFields Table!
Fieldtype Reference creates references to remote fields with great flexibility
Fieldtype Reference, a module by Benjamin Milde, adds support for fields that reference values of remote fields. By adding a new reference field, you can literally pull values from other pages on the fly and without any template-level custom code. Referenced pages are located with PHP snippets, and the specific field referenced is defined by template=field pairings.
For an example, you could easily create a Reference field contact which would automatically find the first parent page with product or product-category template, pull the value of field owner or category_owner depending on the template of the page found, and display it both in the admin (as an non-editable, display-only field), and also allow you to use it in the template (as a read-only field).
While API usage is a nice shortcut and can help avoid code duplication, the Reference fieldtype also adds a whole new level of flexibility for your Admin designs. For an example, imagine the possibilities when combined with showIf rules. Displaying given field only if a checkbox on the home page is checked, if a field on another page is empty, etc. Pretty neat, right? :)
Thanks to Benjamin for building this very useful module – we've no doubt that it'll come in handy in our future projects! For more examples and details, we'd suggest checking out the README file of the module at GitHub.
Site of the week: Gabriela Estates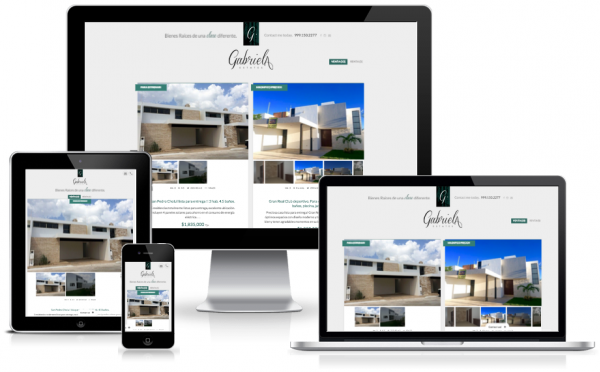 Recently there have been many great additions to our sites directory, making it harder and harder to pick just one each week. Nevertheless, we believe that the site we've chosen this week, Gabriela Estates, represents some of the best qualities of sites built with ProcessWire:
it's clean, responsive, and usable;
makes use of ProcessWire's core strengths, including its ability to define flexible data types;
and, finally, the whole site looks really awesome and shows obvious signs of true craftsmanship!
The focus of the site is on the properties currently for sale or available for rent via Gabriela Estates, displayed in a clean, attractive, and distraction-free manner. The overall design looks well thought out, call to action buttons are easy to spot, and property details are neatly listed. The carousel displaying photos feels particularly usable on touch devices – a relatively small detail, but one that often greatly enhances the experience of mobile users!
The site in question belongs to Gabriela Muñiz, a real estate agent in Mérida (Yucatan, Mexico), and was skilfully put together by Joshua Gatcke of 99Lime. Congratulations for both the client and Joshua for having such a great site!
Stay tuned for our next issue
That's it for the 57th issue of ProcessWire Weekly. We'll be back with more news, updates, and content next Saturday, 20th of June. As always, ProcessWire newsletter subscribers will get our updates a few days later.
Thanks for staying with us, once again. Hope you've had a great and productive week, and don't forget to check out the ProcessWire forums for more interesting topics. Until next week, happy hacking with ProcessWire!