60th issue of ProcessWire Weekly brings in all the latest news from the ProcessWire community. Core updates, sites, and more. Read on!
We've got plenty of content for this 60th issue of the ProcessWire Weekly. Ryan has been doing awesome work with the latest batch of development branch updates, we stumbled upon a very interesting introductory article, and the support forums have been active. It's time to sit back, grab a cup of coffee, relax, and enjoy our latest weekly issue.
We sincerely wish that you like what you see here, and please don't hesitate to drop us a line if there's anything you'd like us to change or cover in our future issues. Again, big thanks for your continued support for us and the ProcessWire project – your opinions and feedback means a lot to us!
Latest core updates: ProcessWire 2.6.7
ProcessWire 2.6.7, according to Ryan's latest processwire.com blog post, contains bugfixes and smaller tweaks to updates we've seen over the past weeks. As always, there's some very neat new stuff in there too:
Site-level include/hook files introduce a new way to attach hooks or run PHP code at a specific time in a standardised way – and without the need to write a module for that​.
/site/init.php, /site/ready.php, and /site/finished.php provide a new, standardised way to attach hooks or run PHP code at specific points in ProcessWires lifecycle: /site/init.php executes after autoload modules' init() methods, /site/ready.php after autoload modules' ready() methods and /site/finished.php right before ProcessWire shuts down.
Ryan has provided us with both a longer explanation of these files, their specific purposes, and differences, and also an example or a real-world use case for them, in his blog post. Don't forget to check it out if you're interested in learning what this new feature is all about!
More updates to ListerPro this week: asynchronous page editing capabilities refined even further.
Last week we introduced a bunch of updates to the ListerPro module, and this week Ryan has provided us with another set of tweaks and updates for it. If you're not familiar with ListerPro yet, it's one of the commercial ProcessWire modules built by Ryan; an extended and upgraded version of the built-in core module Lister.
Tom Reno has just finished a new version of his excellent Admin Theme Reno, one of the two Admin Themes shipped with ProcessWire itself.
While this update didn't quite make it to 2.6.7 yet, hopefully we'll be seeing it in the core updates next week. Admin Theme Reno is a great alternative to the default ProcessWire Admin Theme, and we're really excited to get our hands to the next revision of this wonderful theme!
As always, for more details on the updates and core news featured here, check out Ryan's blog post at processwire.com!
Wonderful introduction to ProcessWire by Guy Verville: "Light, Powerful, Elegant"
This week we had the pleasure of stumbling upon this wonderful blog post authored by Guy Verville and posted in the Innobec blog: ProcessWire. Light, Powerful, Elegant. In this post Guy does an exceptional job at walking the reader through ProcessWire, it's various features, and it's trademark simplicity and extendibility.
Everything we know and love about ProcessWire is covered here: the clean and usable GUI; the flexible data structures using Fields, Templates, and Pages; the easy-to-use and straightforward API; even bootstrapping is briefly explained. While we might argue that ProcessWire is, in fact, already a proven solution for intranets and community sites, everything in this article is so well explained and articulated that we'll just leave it at that.
Now that the CMS seems to have hit its stride, I feel confident recommending it to my clients (not to mention my own mother)!
— Guy Verville
Thanks to Guy Verville for composing this wonderful piece of writing. We've read many introductory articles over the past few years, and yours is one of the best ones out there!
Some highlights from the Support Forum
Once again we're taking a look at some of the highlights from the ProcessWire Support Forum. Our forum is much more than "just" a place to ask questions and receive answers regarding ProcessWire – though both questions and answers are always welcome!
Our forum is where the whole ProcessWire community gathers, shares new projects, discusses web development in general, and so much more. If you're not yet a member, we recommend signing up today and joining the discussion!
Site of the week: equitent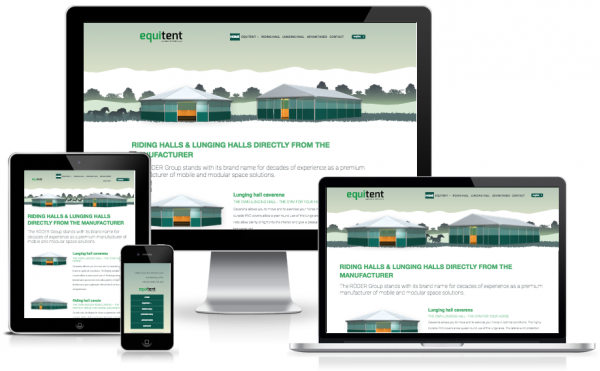 Our site of the week this time is dedicated to introducing a line of riding and lunging halls produced under the name of equitent by RÖDER Group. To be honest we know very little about riding and lunging, but quite a bit about websites, and this particular site is a great example of it's category!
Some of the highlights of this site include it's responsive layout, simple (yet attractive) design, and well-tuned performance. In fact, just out of interest we checked what Google's Page Speed Insights had to say, and got some pretty impressive numbers: 88 for Desktop, and a whopping 97 for Mobile. Not bad, huh?
The equitent website was made by stillworks interactive, an advertising agency with it's headquarters in the city of Fulda, Germany. Stillworks interactive produces both online and offline content, ranging from websites to film production.
Stay tuned for our next issue
That's it for the 60th issue of ProcessWire Weekly. We'll be back with more news, updates, and content next Saturday, 11th of July. As always, ProcessWire newsletter subscribers will get our updates a few days later.
Thanks for staying with us, once again. Hope you've had a great and productive week, and don't forget to check out the ProcessWire forums for more interesting topics. Until next week, happy hacking with ProcessWire!