65th issue of ProcessWire Weekly brings in all the latest news from the ProcessWire community. Modules, sites, and more. Read on!
Welcome to the latest issue of ProcessWire Weekly – hope you've had a great week so far. This is the first ProcessWire Weekly issue to be published at the new weekly.pw site, and we're quite thrilled about this milestone, to say the least.
We'll discuss the new site in detail soon, and we've also got a bunch of core and Pro module updates, couple of new modules, and a stunningly beautiful site of the week to introduce, so let's get this thing started!
If you have any feedback regarding this issue of ProcessWire Weekly, the new weekly.pw site, or anything else, please don't hesitate to drop us a line.
Introducing weekly.pw, the new home of ProcessWire Weekly
Unless you're reading this issue of ProcessWire Weekly as a newsletter, you've probably already noticed this, but we've just published our very own website weekly.pw. This is the new home of ProcessWire Weekly, and we sincerely hope you enjoy what we've done with it.
All existing issues have been imported to the new site and old URLs will soon start redirecting users to the new site. While there are still some details that need to be worked out, just about everything should be in a working condition by now.
If you've got any issues with the site, let us know, and we'll look into it as soon as possible!
So, why exactly did we feel that this was a necessary step to take? Why now and/or why not earlier?
Until this week, ProcessWire Weekly was just a series of blog posts in the author's own blog. This was the most obvious solution back when we were just experimenting with the idea of weekly ProcessWire updates – and it has served us well for more than sixty issues already.
At this point we're confident that ProcessWire Weekly is something that will last for a long time, and the new site is our way of showing our commitment to the project. Additionally a dedicated site allows us to take the whole project into whatever direction is deemed suitable in the future.
As you've probably guessed, weekly.pw is powered by ProcessWire, and the only thing limiting it's capabilities is our (and your) imagination. While there's nothing groundbreaking there, we're also going to open source the whole site as soon as possible and continue developing it openly.
Give the new site a try and let us know how it works!
The new site is here already, so check it out and let us know how things worked (or didn't work) for you. Our feedback form is still around, and next week we'll also launch a short questionnaire regarding some aspects of the weekly issues and the new site.
Whether you're a new reader or a seasoned weekly veteran, your input is very much welcome, and helps us fine-tune our services for your needs. We're also always looking for new and refreshing ideas, and very much looking towards hearing what you've got in your mind.
More about that next week; weekly.pw is out right now, go wild!
Latest core updates: ProcessWire 2.6.12
This week we've got a whole bunch of core updates, and as always, you can find more detailed descriptions of these from Ryan's weekly blog post at the processwire.com blog. Here's a brief summary of what's new in ProcessWire 2.6.12:
The AJAX editing support we introduced last week has received numerous improvements and fixes, among other things making AJAX loaded fields within AJAX loaded fieldsets (or tabs) possible.
"Add New" menu item was added under "Pages" in the top menu of ProcessWire's Admin. This is identical to the existing "Add new" button, but available in all areas of Admin (unlike the button, which is only visible when viewing the Page Tree.)
File modification times (determined runtime) are now used for more efficient cache busting for module JavaScript and CSS files.
Improvements to the appearance of non-editable fields in the Admin. While uneditable, these fields should be properly viewable in the Admin, and that's the reasoning behind this update.
Module cache optimizations make ProcessWire more memory-efficient.
These were the updates that Ryan mentioned specifically in his post, but there have also been various minor tweaks here and there this week.
Additionally various Pro modules were updated: ListerPro, ProFields Table, ProFields Textareas, and ProFields Multiplier. These updates were mostly related to the AJAX editing capabilities mentioned earlier, but you can check out a full changelog from Ryan's weekly post!
Process Quick Toggle, a new module by Nurguly Ashyrov for ProcessWire 2.6.5+
Process Quick Toggle, built by Nurguly Ashyrov, is the first module (that we've heard of) to make use of the Page List extra actions introduced by ProcessWire 2.6.5. In a nutshell, this module allows you to toggle checkbox fields directly from the Page List via AJAX. The buttons added to Page List are configurable on a per field basis.
Checkboxes can be used to enable features, show (or hide) content, and a multitude of other tasks, and with this module you'll have a handy shortcut for all that in the Page List. AJAX support means that you can easily toggle the state of multiple pages, without the delay of opening each page one by one for editing.
Please note that ProcessWire's development branch (version 2.6.5 or later) is currently required to run this module. Big thanks to Nurguly Ashyrov for creating this very handy tool and sharing it with us!
Textformatter Thinspace Plus is a simple module for flattening textarea content
Textformatter Thinspace Plus is a new Textformatter module by Michael van Laar. An extended version of the original Thinspace Textformatter, this module strips repeated whitespaces from text content (just like Thinspace Textformatter), but also removes all line breaks.
Simple, perhaps, but also handy for situations where you happen to need strings without any extra spaces or breaks, yet still want to make use of a longer textarea field (instead of a text input).
Thanks to Michael for sharing this module with us!
Site of the week: Trivium Art History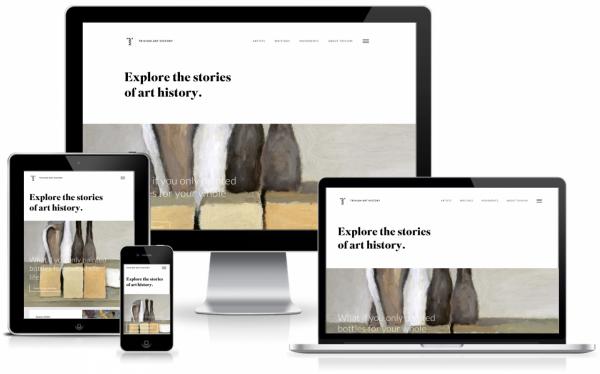 Trivium Art History is a project that, in their own words, aims to make art history interesting again. Based on what we've seen so far on this site, they're doing a great job too – the stories are well worth reading, and the implementation is downright awesome.
The design of the site is extremely clean yet distinctive, and feels like a perfect fit for the theme of art history. The responsive layout works great on all types and sizes of devices, and it's obvious that every little detail on the site has been carefully designed to offer the best possible look and feel.
This site really should be seen to be understood, and thus we'd urge you to take a closer look yourself. Thanks to rawwar for sharing this site with us – it's a real masterpiece, there's no doubt about that!
Stay tuned for our next issue
That's it for the 65th issue of ProcessWire Weekly. We'll be back with more news, updates, and content next Saturday, 15th of August. As always, ProcessWire newsletter subscribers will get our updates a few days later.
Thanks for staying with us, once again. Hope you've had a great and productive week, and don't forget to check out the ProcessWire forums for more interesting topics. Until next week, happy hacking with ProcessWire!