66th issue of ProcessWire Weekly brings in all the latest news from the ProcessWire community. Modules, sites, and more. Read on!
In our 66th issue we're going to take a look at the latest core updates, check out an upcoming commercial module called ProDrafts, another new module by the name of Fieldtype Secure File, and we'll also introduce a brand new site of the week.
Last week we mentioned setting up a small questionnaire for our readers, and that's exactly what we did. We'd really love to hear what you think about us, but we'll discuss that in more detail in a moment.
Thanks for being here with us – we hope you enjoy our weekly update and have a great weekend!
Latest core updates: ProcessWire 2.6.13
Here's a summary of the latest development branch upgrades introduced this week. In addition to these, there have been some bug fixes, and other minor tweaks, and we'll also be taking a closer look at the new Pro-module introduced by Ryan in his latest blog post in a few moments.
Anyway, here's the list of the updates introduced by ProcessWire 2.6.13:
The "Add New" shortcut menu is now manually sortable. You can define the sort order of items via settings of the ProcessPageAdd module. By default menu items are sorted alphabetically.
The Children tab in Page Edit is now loaded asynchronously. This is related to the AJAX Inputfields upgrades we've been seeing lately, and makes the Page Edit view both faster and less resource intensive.
CKEditor was updated from 4.5.1 to 4.5.2. Additionally the dev version contains a workaround for a CKEditor bug affecting at least versions 4.5.1 and 4.5.2. This bug can sometimes prevent saving content, and while a real fix is up to the CKEditor team, our workaround seems to work fine in the meantime.
For a more comprehensive description of each feature, including some screenshots and additional tips, don't forget to check out Ryan's latest post at the processwire.com blog!
Module preview: ProDrafts, a new commercial Pro-module from Ryan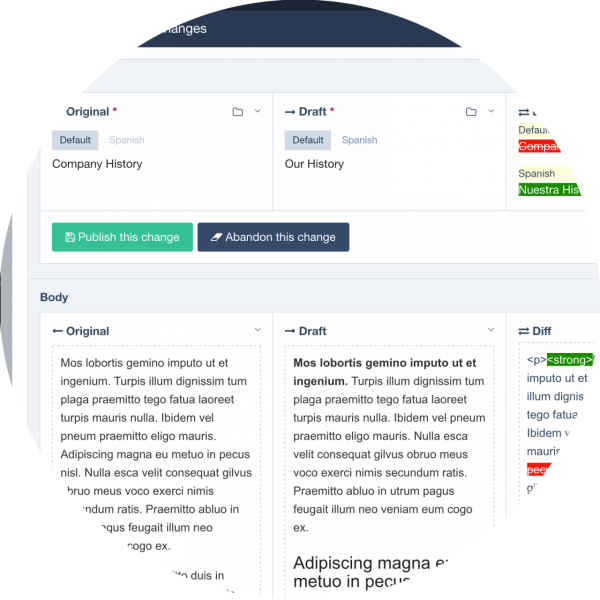 In his weekly blog post, Ryan has shared his latest project, the upcoming ProDrafts module. According to Ryan, the module is still one or two weeks away from being released, but we do have a pretty good impression of its core features by now.
First of all, the ProDrafts module is an answer to community requests for a drafts workflow; the ability to create and manage non-public draft versions of pages, and also to combine these with an approval workflow of some sort. Neither the drafts support nor the approval workflow are necessary for a majority of ProcessWire-powered sites out there, but on larger and more established sites these can definitely come in handy.
ProDrafts adds a "Save Draft" button to Page Edit, a field-level option for comparing draft versions with current one, and a separate Drafts manager, with a list of all page drafts on the site. The Drafts manager is also where users with the "page-publish" permission can also publish (or abandon) one or more drafts at a time.
ProDrafts also introduces a new $drafts API variable, and a $page->draft() method, which we'll also cover in more detail when the module is ready to be published.
You can find more screenshots and details about the ProDrafts module from Ryan's latest blog post. Meanwhile, we're eagerly waiting to get our hands on this new addition to the collection of available Pro-modules!
New module: Fieldtype Secure File
Fieldtype Secure File is a module that stores files securely. Compared to ProcessWire's built-in secure file support, this fieldtype takes a few extra steps to make sure that your files are really secure:
secure files are stored in a non-web-accessible location on your server instead of the default /site/assets/files/ directory,
downloading secure files is only allowed for roles defined in the field settings, and
template access settings etc. have no sway at all over the files stored by File Secure File.
To facilitate securely downloading files, Fieldtype Secure File also has an API of its own. Each individual file has an isDownloadable() method for checking if it's downloadable by current user, and a download() method for validating and downloading the file.
In addition to the API download support, Fieldtype Secure File contains an option for allowing downloads via Admin. Downloading a file via Admin still requires one of the roles defined in field permission settings, though, so no security is lost here either.
Big thanks to Stefan Wanzenried for putting this Secure File together. It's a unique and useful module, and we're certain that it'll come in handy in our future projects!
Site of the week: Yucatan Living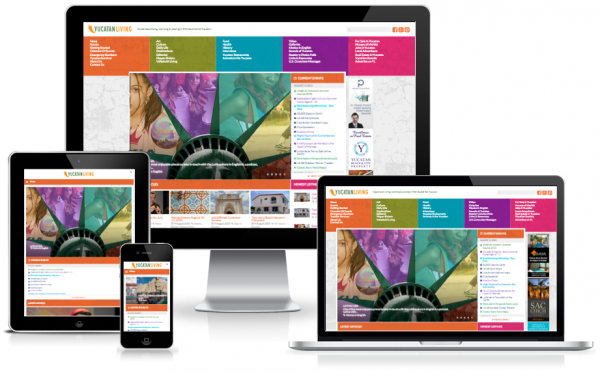 Our site of the week this time is Yucatan Living, a project recently renewed by 99Lime and introduced in a rather detailed forum post just this week.
Yucatan Living is an online magazine focusing on all aspects of living at Yucatán and the city of Mérida. The magazine features articles about the daily life, events, history, culture, nature, and residents of Yucatán, among other things. According to the forum post introducing this site, it has over 1600 articles already. By most standards that's a pretty big site!
The site itself is colorful, filled with interesting content and photography, and – of course – works perfectly on a mobile device thanks to its responsive layout. Behind the scenes, Yucatan Living makes use of the HTML5 Kickstart framework, also built by 99Lime, and a bunch of ProcessWire modules, as mentioned in the introductory forum post.
Congratulations to Joshua Gatcke, Orlando Paredes, and everyone else involved in the Yucatan Living project – it's a great site, and we hope it serves you well!
Your opinion matters: what do you think of the ProcessWire Weekly?
Last week we launched the new weekly.pw site, and also mentioned that we'd be putting out a short questionnaire the next week. Here you'll find that short questionnaire. If you could spare a few moments answering our questions, we'd really appreciate it!
None of the fields are required, and you don't have to fill in anything into the free-form questions (unless you want to), but any ideas or suggestions are welcome, and help us shape the future of the ProcessWire Weekly more to your liking.
We'll summarize the results of this questionnaire in our future issues. All answers are handled anonymously, and we would never release any identifying details, even if you (for any reason) decide to include such details in your feedback.
Thank you in advance!
Stay tuned for our next issue
That's it for the 66th issue of ProcessWire Weekly. We'll be back with more news, updates, and content Saturday, 22nd of August. As always, ProcessWire newsletter subscribers will get our updates a few days later.
Thanks for staying with us, once again. Hope you've had a great and productive week, and don't forget to check out the ProcessWire forums for more interesting topics. Until next week, happy hacking with ProcessWire!