The 72nd issue of ProcessWire Weekly brings in all the latest news from the ProcessWire community. Modules, sites, and more. Read on!
We hope you've had a great week so far, and thanks for being here with us, once again – we've got some pretty interesting topics to cover this week, and we're more than happy to share these with you folks!
The specific topics we're going to cover include the latest updates to the development branch, a whole collection of weekly online resources, a tiny new inputfield module, and a brand new and pretty awesome site of the week.
As always, any and all feedback is welcome – please don't hesitate to drop us a line if there's anything you'd like us to consider for our future issues!
Latest core updates: ProcessWire 2.6.18
In the latest processwire.com blog post, Ryan takes some time to discuss the expected timeline for the next stable release of ProcessWire, 2.7. To summarise, the next stable release might be out as soon as in a month from now.
The focus of the development work during the next few weeks will be directed towards getting the development branch ready for the next stable release. During this time we probably won't be seeing quite as many new features as we're used to.
Regardless, ProcessWire 2.6.18 does still introduce two new features:
New "http" prefix is available for all properties of $config->urls. This prepends current hostname and scheme to the URL: $config->urls->httpTemplates etc.
New $config->urls->next and $config->urls->prev properties are intended to be combined with ProcessWire's built-in pagination, and generate links to next and previous pagination pages
The rest of Ryan's blog post is, in essence, a detailed guide for handling pagination with ProcessWire – getting started, taking SEO stuff into account, and a lot more. Definitely worth checking out, as always!
Online resources and forum highlights of the week
Here are some of the latest highlights from the ProcessWire support forum, plus some interesting links from around the web:
There's always something interesting going on at our support forum, so don't miss any of the fun. If you're not a member yet, sign up for a support forum account today and join the discussion!
Inputfield Textarea Tab Key, a tiny new Inputfield module by Christoph Thelen
Inputfield Textarea Tab Key by Christoph 'kixe' Thelen just might be the smallest module we've introduced so far. The reason for its tiny size is that the module is really just one JavaScript file, which intercepts the tab key and inserts actual tab character into the textarea inputfield.
Note that this could be considered either a feature or a usability issue, depending on how you look at it: the module disables switching field focus by using the tab key, thus forcing the use of a mouse, which – again depending on the context – might not be such a great idea.
This module may only work for a handful of use cases, but that doesn't mean it isn't useful, so thanks for sharing this with us Christoph!
Site of the week: Efima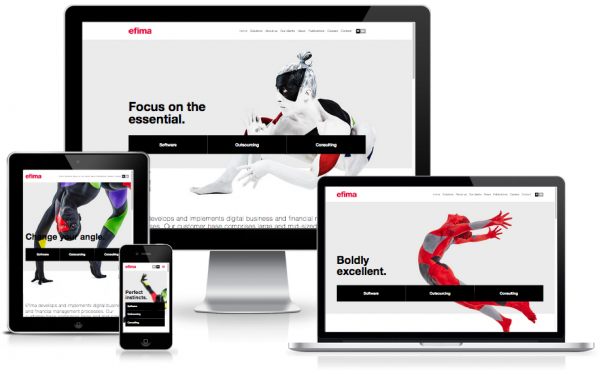 Efima is a Finnish company offering cloud-based digital business and financial management solutions for large and mid-sized organizations from all industries.
Founded in 2009, Efima has two offices in Finland – in Helsinki and Tampere – and some of the most well-known Finnish companies as their clients. In the 2015 Great Place to Work study they placed 7th in Finland, which in itself is quite impressive.
Both the responsive website and the whole brand strategy of Efima was handcrafted by Finnish brand and corporate identity studio Nordenswan & Siirilä. The focus of the site is on very strong visuals combined with great typography and cleanly organized content. In this respect the site is indeed a success: it leaves a lasting impression and gives Efima a whole lot of credibility.
For an in-depth look into the project that resulted in the distinctive brand strategy of Efima – known as Efima Evolution – check out the Efima reference page at the site of Nordenswan & Siirilä, not to forget the Efima Evolution making-of video. Absolutely stunning work from all the parties involved!
Stay tuned for our next issue
That's it for the 72nd issue of ProcessWire Weekly. We'll be back with more news, updates, and content Saturday, 3rd of October. As always, ProcessWire newsletter subscribers will get our updates a few days later.
Thanks for staying with us, once again. Hope you've had a great and productive week, and don't forget to check out the ProcessWire forums for more interesting topics. Until next week, happy hacking with ProcessWire!