The 75th issue of ProcessWire Weekly brings in all the latest news from the ProcessWire community. Modules, sites, and more. Read on!
While ProcessWire 2.7 is still a week or two away, we've also already started working towards the next major release of ProcessWire, 3.0. You can read more about that from our core updates section or the latest blog post at processwire.com.
Other topics this week include some recent support forum highlights, introduction to the Process Email To Page module for those not yet acquainted with it – and, of course, the new site of the week section, where we'll feature the site of jambit, a software company based in Munich.
Thanks for being here with us, and as always, any and all feedback is welcome – please don't hesitate to drop us a line if there's anything you'd like us to consider for our future issues!
Latest core updates: ProcessWire 2.6.20 and ProcessWire 3.0 alpha 1
This time, the core updates are split into two parts. In addition to a new minor release for the dev branch – soon to be released as ProcessWire 2.7 – there's also a whole new devns branch in our GitHub repository. The devns branch will eventually be released as ProcessWire 3.0.
As always, this is just a summary of the latest processwire.com blog post by Ryan. Don't forget to check it out for more details, especially about the features of ProcessWire 3.0, how they're going to be useful, and what kind of considerations this new major release will introduce for existing sites and applications.
ProcessWire 2.6.20
This week mainly minor bugfixes and some behind-the-scenes performance updates (such as improvements to emptying trash when it contains thousands of pages) have been applied to the dev branch, and things are looking good for an imminent release.
Current plan is to release ProcessWire 2.7 at the end of October, which gives us a week or two to make sure that everything works as expected. In the meantime, don't hesitate to check out the dev branch – it's just about as stable as the 2.6 branch by now!
ProcessWire 3.0 alpha 1
3.0 is the next major release of ProcessWire, and will contain at least three major improvements:
Transition to PHP namespaces. In addition to making us look a bit more tempting for programming-oriented audiences, namespaces will make it easier to integrate ProcessWire into other applications. As an indirect benefit complex modules can have their own namespaces, which we'll cover in more detail in later issues.
Multi-instance support. In essence, this will allow you to have multiple instances of ProcessWire running from one script, something you couldn't do before. This will introduce whole new opportunities for communicating and sharing data between multiple sites.
Compiled templates. While this doesn't imply native templating engine support, it does mean that implementing such a feature as a 3rd party module will become very easy. For the time being compiled templates will make it possible to convert 2.x template files into 3.x compatible ones automatically if and when needed.
While some of the details are still a bit hazy and a big change like transitioning to PHP namespaces is likely to require changes to existing modules and even some template files, our plan is to make 3.0 a smooth transition for existing 2.x sites. In general, we can assure you that making things more complicated is not among our goals.
Current estimate for the 3.0 release date would be somewhere in spring 2016, but we'll keep you updated about that. The roadmap will reflect our plans as they proceed too, so you might want to keep an eye out for any changes there.
For more details about 3.0, the future of the 2.x branch, and the features mentioned above, please check out Ryan's latest blog post!
ProcessWire support forum highlights
Another collection of support forum highlights. As always, please let us know if there's anything else you can think of that should be here!
If you're interested in getting ProcessWire news, discussions, and updates in real time, there's always something interesting going on at the support forum. We're only able to include a tiny selection of all that in our weekly updates, so head down to the forums for more action.
Module highlight: Process Email to Page
In the past we've sometimes (re)introduced modules that were released before the weekly issues started. This time we're continuing that tradition with a module that definitely deserves to be featured here: Process Email To Page by Pete and Adrian.
In a nutshell Process Email To Page adds support for adding content to your site via email. While that's roughly the gist of it, there's actually a lot more to it:
You can configure the mail server from which the module will fetch messages (using POP3 or IMAP protocol) periodically.
You can specify multiple email addresses, each of which will add pages of specific type to a specific section of the site.
You can join various email headers with existing fields, and specify target fields in the email itself by using delimiters.
You can notify selected users of newly added pages using a custom message, which may contain various shortcodes.
You can define which specific email addresses or hosts are allowed to create pages by sending emails.
If you need to report things on the go or while relying on a strictly limited internet access, want to turn automated email messages into ProcessWire pages for archiving and/or online display, or just prefer a simple email-to-page workflow, this module is just the tool you're looking for!
Please note that Process Email To Page makes use of the Flourish library for various email-related tasks, so it's licensing terms apply too. Thanks to Pete and Adrian for building and maintaining this great module!
Site of the week: jambit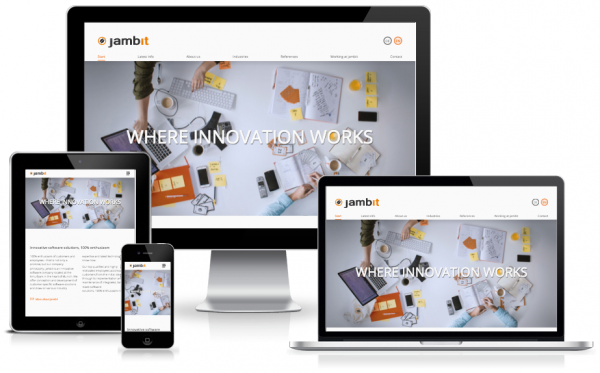 Our latest site of the week belongs to jambit, a software company located at Munich. The figures speak for themselves: fifteen years of experience, 160 employees, more than 400 managed servers, and over 300.000 cups of consumed coffee.
By most standards those are quite impressive figures, and – just in case you were wondering – there's actually a pretty good reason for that last figure too: it's directly related to the coffee story, which explains how the company got its name:
In the book, the name "jambit" was mentioned: It was stated that it was the best coffee plantation on the Indonesian island of Java. The name included "IT ", no similar entries were registered in search engines, domains were available – it was a done deal!
The site itself contains a lot of content, is responsive, and seems quite snappy. While that's probably a sum of various things, running ProCache behind the scenes probably doesn't hurt either. Another thing we noticed was that the site makes use of the slick carousel, which is a nice touch; slick is responsive and handles touch gestures neatly, which definitely improves the whole carousel experience for mobile users.
Thanks to Francesco Schwarz for sharing this site with us – congratulations to both you and your employer for a stunning new website!
Stay tuned for our next issue
That's it for the 75th issue of ProcessWire Weekly. We'll be back with more news, updates, and content Saturday, 24th of October. As always, ProcessWire newsletter subscribers will get our updates a few days later.
Thanks for staying with us, once again. Hope you've had a great and productive week, and don't forget to check out the ProcessWire forums for more interesting topics. Until next week, happy hacking with ProcessWire!