The 81st issue of ProcessWire Weekly brings in all the latest news from the ProcessWire community. Core updates, external resources, sites, and more. Read on!
This is one of those rare weeks when we don't have any new modules to introduce. On the other hand we've got plenty of core updates, highlights from recent online resources, and – of course – a new site of the week.
As a reminder of something we discussed in more detail last week, the annual Critics' Choice CMS Awards are now open for voting. In case you're interested in showing your support for ProcessWire, vote for us as the best CMS for developers.
As always, thanks for being here with us. We've tried to gather all the most important ProcessWire news for the week, but if you feel that we've missed something notable, please don't hesitate to drop us a line and let us know.
Now, let's get this thing started!
Latest core updates: 2.7.1 stable, 2.7.2 dev, 3.0 alpha 3, and more!
As outlined by Ryan in his latest processwire.com blog post, this week's list of updates is again quite extensive. In addition to a new stable version, there's also a new dev version, and even a new alpha version of 3.0.
Probably the most interesting news this week is still a new addition to the roadmap, currently planned for the alpha-4 release of 3.0: native support for front-end editing. This is a pretty big feature, so we'll explain in just a moment what it is all about.
The latest stable version of ProcessWire: 2.7.1
The latest stable version of ProcessWire, 2.7.1, includes fixes for a bunch of minor issues found from 2.7.0. As such this is a recommended update for all 2.7 users, and for anyone still waiting to see how stable the 2.7 branch is before upgrading from an earlier version, this is a great time to jump in.
Additionally this version adds support for internationalized URLs (IDNs) for URL fields and $sanitizer->url(), enables sorting by subfields in Lister when applicable, and adds a new page-edit-images permission (related to certain backend image editing options.)
The latest development version of ProcessWire: 2.7.2
The latest development version of ProcessWire is now 2.7.2. This version is likely to be merged into the master branch pretty soon, but needs a bit more testing before that.
Probably the most significant change in 2.7.2 is hiding some of the bookmarks features by default, and adding settings to ProcessPageEdit and ProcessPageLister for enabling these. The affected bookmark features are "Pages > Edit" and "Pages > Tree".
Please note that generally speaking the development branch is not recommended for production sites. It's great for personal projects, and by using the dev branch you can get a proper taste of any upcoming new features early on.
3.0 alpha 3 merges fixes and improvements from the 2.x branch
The third alpha release of 3.0 mainly merges the fixes and improvements added to the 2.x branch between 2.7.0 and 2.7.2 to the 3.0 branch. Additionally this version officially deprecates the 2.x compat mode, which has proven out to be non-essential after the addition of support for compiled template files and modules.
If you're already using 3.0, this update is recommended.
Sneak peek into alpha 4 of ProcessWire 3.0: support for native front-end editing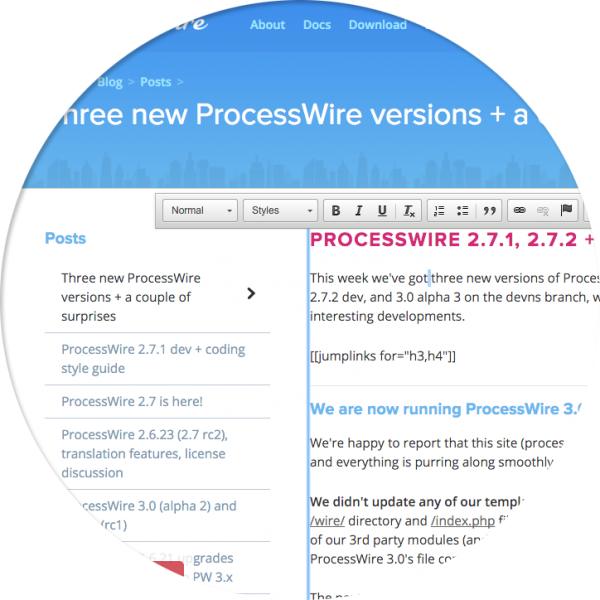 The big surprise that Ryan just dropped is the addition of native front-end editing support for the 3.0 branch.
This feature is expected for the next alpha release of 3.0 (alpha 4), but we can already get a glimpse of it in action by visiting the latest blog post at procsswire.com and double-clicking either the main content area or the headline of the page.
Ryan explains both the functionality and the reasoning behind this addition in more detail in his latest blog post, but to summarize:
Front-end editing is not intended as a replacement for the admin back-end, just an additional feature that can be useful for some specific use cases. Our deeply rooted philosophy of separating content from presentation hasn't changed.
Front-end editing support must be enabled on a field-by-field basis, and currently works with fields that contain text or markup. Content is made editable either by implementing HTML5 contenteditable attribute or the inline mode of CKEditor.
You don't need to apply any front-end tricks to make this work (except if you want specific styling), as ProcessWire takes care of all that for you right out of the box.
Multi-language content is supported in the context of multi-language page names, where each language has URL of its own.
A brand new API method $page->editor() lets you manually enable or disable front-end editing.
Hopefully we'll know more about this new feature next week. In the meantime, don't hesitate to drop your own questions to Ryan via the comments section of the processwire.com blog. Thanks!
While we're on the subject of 3.0...
In case you are wondering how stable it can really be, being an alpha release and all.. well, Ryan definitely seems to have a lot of confidence in it already. As a proof of this, processwire.com is now running on 3.0.
According to Ryan, there have been no issues at all so far, not with template files, and not even with 3rd party modules. We're still a very long way from a truly stable version of the 3.0 branch, but so far things are looking pretty awesome!
ProcessWire on the web, recent highlights
It's always interesting to hear what others have to say about ProcessWire, and this week we wanted to mention some recent highlights from the ProcessWire on the web forum thread:
That's all for now. In case you happen to come across a great post, article, or forum thread about ProcessWire – or write one yourself – don't forget to mention it in the aforementioned support forum thread. Thanks!
Site of the week: the Smart City Alliance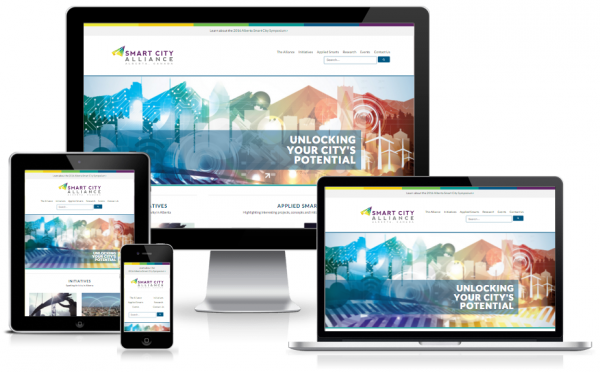 Our site of the week this time is the Smart City Alliance. In their own words, they are "the only organization dedicated to the advancement of innovative technological and data-based solutions to many of the complex issues facing Alberta municipalities."
A great goal, no doubt about that, and we're happy to see their recently relaunched site now being powered by ProcessWire. From what we can tell, this isn't one of the most complex or most extensive sites built with ProcessWire by any means, but it does make good use of its strengths either way.
As explained in the introductory forum post by the author, some of the highlights of the site include responsive design and srcset for responsive images. Behind the scenes the site makes use of a bunch of 3rd party modules, including AIOM+, Hanna Code, Twitter Feed Markup, and Map Marker.
All in all the site seems quite snappy and definitely looks good – in other words a job well done. Big thanks to Mike Mitchell for sharing this site with us!
Stay tuned for our next issue
That's it for the 81st issue of ProcessWire Weekly. We'll be back with more news, updates, and content Saturday, 5th of December. As always, ProcessWire newsletter subscribers will get our updates a few days later.
Thanks for staying with us, once again. Hope you've had a great and productive week, and don't forget to check out the ProcessWire forums for more interesting topics. Until next week, happy hacking with ProcessWire!