The 82nd issue of ProcessWire Weekly brings in all the latest news from the ProcessWire community. Core updates, modules, sites, and more. Read on!
In this issue we're going to take a closer look at the latest alpha release of ProcessWire 3.0, introduce a brand new module by Bea Dav, and include a list of recent news and updates. The site of the week title, on the other hand, goes to a music zine from Portland – the Vortex Music Magazine.
Thanks for being here with us again. We hope you enjoy our weekly news, and in case there's anything we can do better next time, please let us know. Our feedback form is always open and we're more than happy to hear what you folks have to say.
Now, let's get this thing started!
ProcessWire 3.0 alpha 4 (3.0.1) includes extensive support for front-end editing
ProcessWire 3.0 alpha 4 (3.0.1) is the latest update for the devns branch. As explained in detail by Ryan in his latest blog post, this version includes the front-end editing support Ryan briefly covered last week – but also extends said support vastly, meaning that it no longer applies to text-based fields only.
From now on all fields support front-end editing
When made editable, some fields will use the inline editing interface of CKEditor or the native HTML5 contenteditable feature supported by nearly all browsers out there, while others – including the most complex types, such as repeaters and PageTables – will use a separate editing dialog.
The latter approach should be familiar to the users of Fredi, since that's where the idea for this originated from in the first place. As we know, some fields can get very complex, not to mention that ProcessWire doesn't dictate how their content is displayed, making this the approach that makes the most sense in this context.
Alternative approaches for making fields editable
All the core front-end editing capabilities – available for superusers and users with the page-edit-front permission – are provided by a new module called PageFrontEdit. While front-end editing itself is enabled by installing this module, you also need to enable editing of specific fields using one of three methods currently available:
Option A, automatic editing, is enabled by checking a box in the settings of a specific field. This is mostly useful for fields that contain simple, text-based values – the content of the main column or the sidebar, etc.
Option B, an API method, allows you to programmatically enable editing of a field. Replace echo $page->field_name or echo $page->get('field_name') with echo $page->edit('field_name') and the value of the field is displayed with front-end edit enabled.
Option C, <edit>..</edit> tag, makes it possible to define a larger area that will open an editor for the specified field; inline editor is used for fields that support it, otherwise this will open an editing dialog. This option also supports editing multiple fields and editing field values for a specific page.
For more details about the methods mentioned above, screenshots, and an overview of the front-end editing capabilities in general, don't forget to check out Ryan's latest post at the processwire.com blog.
New module: Import Pages XML by Bea Dav
Import Pages XML is a new module by Bea Dav. Import Pages XML bears some very loose similarities with Ryan's Import Pages CSV, but in this case the source data is provided as an XML file, and some of the included features – such as support for references between fields – are rather advanced in comparison.
In a nutshell Import Pages XML utilises XPath for parsing an XML file and matching local fields with content from said file. The module makes it possible to either remove any existing pages matching the import rules, or update them with new data, and also supports importing images from a separate directory on the disk.
The GitHub repository contains more details about the module and a list of supported fieldtypes. For questions and support, head down to the support forum thread. Thanks to Bea for sharing this module with us!
Other notable news, events, and updates
Here's a short list of some of the most recent news, events, and updates that you might want to check out in more detail:
If you're interested in getting ProcessWire news, discussions, and updates in real time, there's always something interesting going on at the support forum. Head down to the forums for more action!
Site of the week: Vortex Music Magazine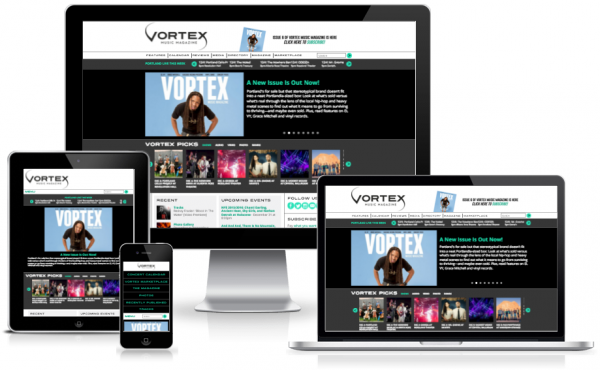 Vortex Music Magazine aims to make the Portland music scene – artists and bands, records, companies, history, and so on – known by making it more approachable. They publish a print magazine four times a year and manage a site with a steady stream of all sorts digital content available round the year.
The site of Vortex Music Magazine, built by Arthur Parker, is responsive, reactive, and has the kind of a "media portal feel" to it many music zines seem to share. Behind the scenes this site makes use of the ProCache module, and some notable front-end features include the use of Generous for the "choose your own price" type of subscription for the print magazine and Disqus for the comments.
Technical details aside, the thing that actually caught our eye here was the quality of the content, including some of the digital freebies. Just for an example, right now I'm streaming the self-recorded acoustic EP Whiskey & 45's from The Co Founder. Brilliant album, mind you, and Harris Avenue is one of the best songs I've heard in a while.
Thanks to Arthur Parker for creating such a great site, and equally big thanks to everyone involved in creating the content for this site – keep up the great work!
Stay tuned for our next issue
That's it for the 82nd issue of ProcessWire Weekly. We'll be back with more news, updates, and content Saturday, 12th of December. As always, ProcessWire newsletter subscribers will get our updates a few days later.
Thanks for staying with us, once again. Hope you've had a great and productive week, and don't forget to check out the ProcessWire forums for more interesting topics. Until next week, happy hacking with ProcessWire!