Happy New Year, and welcome to the latest issue of ProcessWire Weekly. This time we're going to take a closer look at ProcessWire's roadmap for 2016 and introduce some new modules and showcase a brand new site of the week.
This is the first issue of ProcessWire Weekly for 2016, and we're already going full steam ahead. In our 86th issue, we're going to introduce a couple of new modules, a new site of the week, and an updated and refined roadmap for the whole project.
As always, feel free to send us any feedback you might have, whether it's related to our first issue of the year or something more general. Hopefully you've all had a pleasant start of the year and are ready for a whole new year of awesomeness.
Thanks for being here and have a great weekend!
The updated roadmap for ProcessWire: what should we expect in 2016?
The latest blog post by Ryan includes an updated roadmap for ProcessWire – both the product and the project. As always, the roadmap is not set in stone, and many things are still up for discussion.
The roadmap is divided into three equally important sections: core development, Pro modules, and project goals. We'll be going through some of the highlights from each section here, but don't forget to check out Ryan's blog post for more details.
Core development
2016 is the year of ProcessWire 3, and thus the core section outlines features that are already available via the devns branch, or will likely be there sooner or later. Some highlights from this list:
The features that already exist include namespace support, native front-end editing, compiled template files and modules, and a bunch of new API variables.
The features currently being worked on include image field updates, multi-instance support, composer support, and tune-ups and trimming of the core itself.
Other planned features include cropping tool updates, client-side image resizing, admin theme updates, auto-save feature, and JavaScript access to the $pages API variable.
While the focus is on 3.x, we'll be updating 2.x with stability updates and fixes to known issues. There's currently no EOL date set for 2.x, and thus both branches, 2.x and 3.x, will be maintained simultaneously until further notice.
Pro modules
Pro modules are commercial modules built and managed by Ryan in order to support his work on the main project. For anyone unfamiliar with these, the ProcessWire store contains a list of modules with detailed descriptions.
In 2016, the Pro modules family will grow with an addition that we've discussed in more detail before, ProDrafts. Additionally many of the existing Pro modules will be both expanded and updated to take full benefit of the new 3.x core features.
Project goals
Project goals for 2016 include increasing the visibility of ProcessWire in the web development world, delegating core-related development tasks to a wider team, redesigning processwire.com, and improved documentation for the system.
Overall many of these plans are already in motion, and we'll be sharing more details as soon as we can. The ProcessWire project has grown steadily over the years, a very active community has evolved around it, and we've got even bigger goals for the future!
What you see here is a list of feature highlights we thought you might find interesting. For more roadmap items and more details about items and features mentioned here, check out Ryan's latest post at the processwire.com blog.
Setup Page Name adds new features to the native name format children setting
Process Setup Page Name is a new module from Christoph Thelen, recently announced in an earlier support forum thread discussing some previously suggested additions to the core. Now these suggestions have been developed even further and released as a separate module.
The newly released module introduces multiple interesting options for the name format children setting found from Family tab of templates and used for automatically naming child pages. These options give you easy access to different date formats, values from current page, and values from the parent page.
For a complete list of options, see the support forum thread mentioned above. Thanks to Christoph for building this module – it's definitely an improvement, and we're happy that you've decided to share it with us!
Site of the week: the portfolio of Imre Baksa, Hungarian actor and director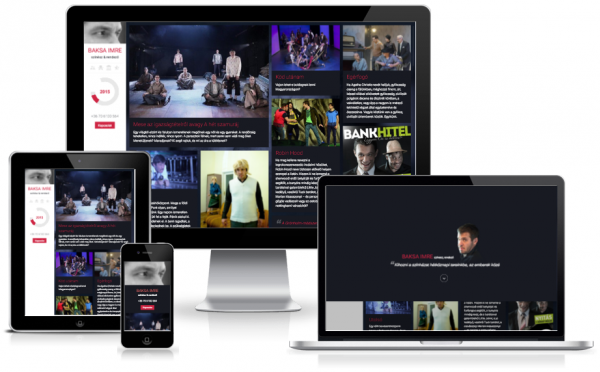 The very first site of the week for 2016 is the portfolio of Imre Baksa, Hungarian actor and director.
Designed and built by Roland Toth, this site makes use of jQuery Isotope library for the bulk of its layout, neat-looking loading effects accompany lightbox windows, and just overall has a very modern look and feel to it. Responsive as it is, the usability is also great in all types and sizes of devices.
Behind the scenes the site is currently running on ProcessWire 2.7.0 and makes use of a bunch of the author's own modules – FEEL, InputfieldURLChecker, and Textformatter MultiValue. Other modules used include Page List Image Label by Soma, Admin Template Columns by Pete, and Markup SEO by Nico.
Roland has kindly provided us with a great write-up of the site in a recent forum post, so don't forget to check it out for more details. Big thanks for sharing this site with us!
Stay tuned for our next issue
That's it for the 86th issue of ProcessWire Weekly. We'll be back with more news, updates, and content Saturday, 9th of January. As always, ProcessWire newsletter subscribers will get our updates a few days later.
Thanks for staying with us, once again. Hope you've had a great and productive week, and don't forget to check out the ProcessWire forums for more interesting topics. Until next week, happy hacking with ProcessWire!