For the 87th issue of ProcessWire Weekly we've got some very interesting core development news to share, new third party modules, and of course a brand new site of the week. Read on!
For our latest weekly issue, we've got some particularly thrilling news in terms of core updates and officially supported commercial modules, not to mention a couple of very interesting new third party modules and a brand new site of the week.
Thanks for being here with us and hope you enjoy our weekly news. If there's anything we could improve, please let us know; our feedback form is always open, and we're more than happy to hear what you folks have to say.
Have a great weekend and don't forget to follow the interesting discussions going on at our forums!
ProcessWire 3.0.4: major upgrades to Repeaters in terms of usability and flexibility
In his latest blog post, Ryan describes the next evolutionary step of the Repeater field. Here's a summary of the changes to Repeaters:
New items are added via AJAX requests, meaning that there's no need to define "ready items" anymore. A major improvement in terms of usability and scalability, this upgrade was made possible by the support for dynamically loaded fields, added in ProcessWire 2.7.
New configuration options allow collapsing items by default, configuring labels freely (optionally using content from items in the label), and customizing the "add new item" text on a case-by-case basis.
New toggle for easily publishing – or unpublishing – specific Repeater items.
Stability improvements and other upgrades include support for "show if" dependencies, a fix for an issue caused by sorting Repeater items with CKEditor fields, and more.
At one point it seemed like PageTable might completely replace Repeaters, but now we can say for sure that this is unlikely to happen, at least not anytime soon. There are still some cases for which PageTable is the preferable option, but this week the Repeater field took a huge leap in terms of usability and flexibility.
For a much more detailed summary of the weekly core updates, including screenshots of the updated Repeater field in action, don't forget to read Ryan's latest blog post.
Introducing the latest addition to the commercial ProFields module bundle: Repeater Matrix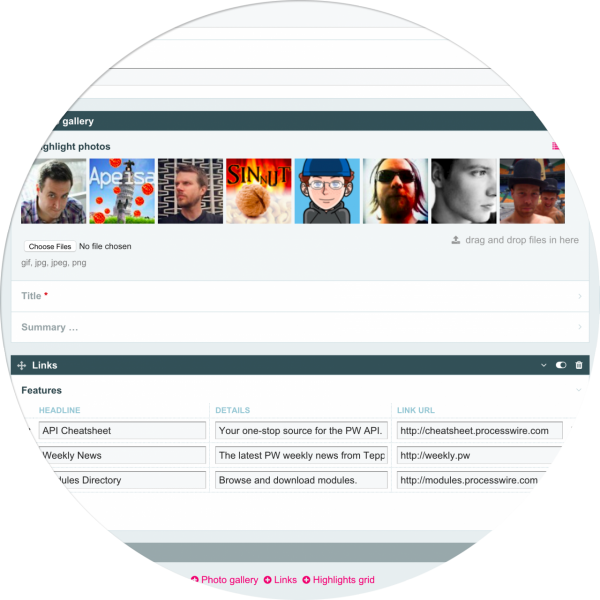 The latest addition to the commercial ProFields module bundle, Repeater Matrix field, is very much in line with the core updates this week.
ProFields provide advanced features that can vastly improve your workflow in certain cases – and the Repeater Matrix field is no exception. In a nutshell, Repeater Matrix is a Repeater field with a feature previously only found from PageTable: support for multiple types of items.
Potential use cases for Repeater Matrix include – but are far from being limited to – situations like creating a custom block or widget layout for a page, replacing a single rich text field with separate items with predefined layouts, and just generally speaking any situation that requires a list of items that may have different properties.
For more details about the ProFields Repeater Matrix field, including some screenshots, check out Ryan's latest blog post at processwire.com. Thanks!
New module: AdminHelp adds an easy way to manage site-wide documentation
AdminHelp is a new module bundle by Macrura. In a nutshell, it adds a Help tab to Page Edit and provides an easy way to manage site-wide documentation in a hidden section of the site. Bundled (but optional) ProcessAdminHelp module also provides a way to view and manage documentation in one place.
Getting started is easy: you either create your help templates and the documentation section of the page tree manually or let the module create them for you by using the automatic setup option. From there on you can focus on managing the documentation – creating new pages, connecting them with your templates, etc.
Please keep in mind that this is still an early version of the module, labeled as "beta" in the modules directory. Please report any potential issues to the author via the support forum thread or the AdminHelp GitHub repository. Thanks!
For more details, head down to the AdminHelp support forum thread. Thanks to Macrura for sharing this module with us – this looks like a very promising project indeed!
New module: ImageMarker is a Fieldtype and an Inputfield for placing markers on user-defined images
Another module bundle fresh out of the press is ImageMarker Fieldtype and Inputfield bundle. A co-project of Kongondo and Helder Cervantes, the key feature of the module is quite simple: adding markers on top of an image.
There's a video of the ImageMarker module that displays most of the module's features in action, but just to summarize and clarify a few points:
The base image is specified on a per-page basis using a separate image field and even the type of markers will be configurable in later revisions of the module.
Markers are actually pages, and since you can pull any kind of data from pages, this opens all kinds of interesting possibilities for front-end development.
You can place the items on the image either by defining x and y coordinates in percentages or by dragging them on the image; as a result of percentage values, the module should support simple responsive images
For more details, we'd suggest keeping tabs on the ImageMarker support forum thread.
Just like with the AdminHelp module introduced earlier, please keep in mind that this module is still in beta – test responsibly, and don't forget to report any issues to the author. Thanks!
Big thanks to Kongondo and Helder Cervantes for making this module possible. It's a very useful addition to our modules directory!
Site of the week: Short&Sweet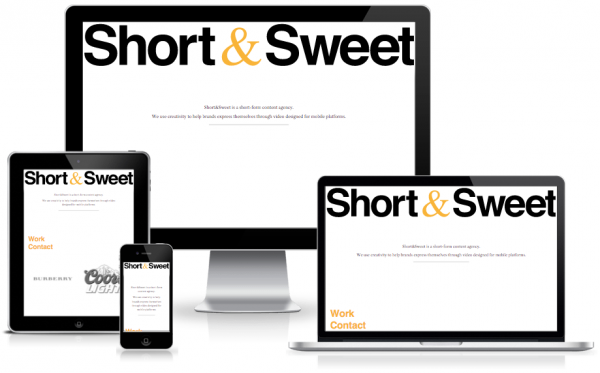 Our latest site of the week belongs to an agency called Short&Sweet. They describe themselves as a short-form content agency and specialize in video content fine-tuned for mobile environment.
The site of Short&Sweet is handiwork of Ben Byford and very much in line with the name of the agency and the type of content they produce: while it is extremely simplistic, probably more so than anything else we've ever included in our weekly posts, it does great work at conveying a message.
In addition to the very distinctive vibe that the site emits, a particularly notable feature are the work samples. Short&Sweet has worked with many major brands, including the likes of Microsoft and Adidas, the content they've created is downright top-notch. Don't take our word for it, though – visit the site and see for yourself!
Short&Sweet is an unusual site in many ways, and we're thrilled to see work like this powered by ProcessWire. Big thanks to Ben Byford and Short&Sweet for sharing your work with us!
Stay tuned for our next issue
That's it for the 87th issue of ProcessWire Weekly. We'll be back with more news, updates, and content Saturday, 16th of January. As always, ProcessWire newsletter subscribers will get our updates a few days later.
Thanks for staying with us, once again. Hope you've had a great and productive week, and don't forget to check out the ProcessWire forums for more interesting topics. Until next week, happy hacking with ProcessWire!