The 94th issue of ProcessWire Weekly brings in the latest news from the ProcessWire community. This time we have one new module, some core updates, and a hand-picked collection of useful resources. Read on!
After focusing on the release of ProDrafts last week, this week we're back on the track with some pretty impressive improvements to the 3.x branch of ProcessWire. We've also got one new module, a collection of useful resources, and a brand new site of the week.
We hope you find our latest issue useful, and please don't hesitate to drop us a line if there's anything we should fix or something you'd like us to cover in our future issues. Thanks for your continued support for the ProcessWire project!
ProcessWire 3.0.9 improves admin usability and the latest version of ProDrafts brings in a bunch of new features
Last week the focus was on ProDrafts, but this week we're back on the track with some new core updates. As Ryan explains in his latest post at the processwire.com blog, the 3.0.9 version of ProcessWire contains two improvements for the admin tools:
Long-click actions for edit and view buttons in page list and view button on the page editor will trigger selected action in a modal window instead of opening a new window or tab.
Save buttons in page editor now support dropdown actions. By hovering over a button for a little less than a second you'll see a new dropdown with additional options: publish + exit, publish + view, publish + add new, etc.
In his post, Ryan also introduces the latest version of ProDrafts. What's new this week is support for the live preview feature, view both feature for viewing published and draft versions of the page side-by-side, new confirmation option before publishing a draft, and various tweaks and minor additions.
More details about both ProcessWire 3.0.9 and the latest version of ProDrafts (including a link to the screencast of the live preview feature) can be found from Ryan's blog post, so don't forget to check it out!
ProcessWire resources of the week
Here's another collection of ProcessWire links, resources, and updates from the past week or so. As always: please let us know if there's anything we've missed so that we can include it in one of our future issues!
If you're interested in ProcessWire news, discussions, and updates, there's always something going on at the support forum. Since we're only able to include a tiny selection of all that in our weekly updates, head down to the forum for more.
Site of the week: leannelangley.com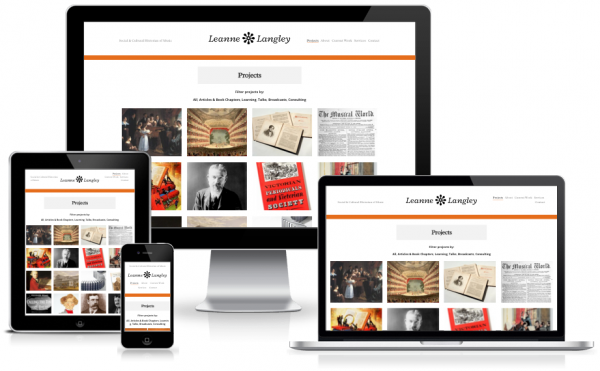 Our latest site of the week belongs to freelance writer, historian, and researcher Leanne Langley. Leanne specializes in the musical culture of Britain between 1750 and 1950 and has made her services available for various types of projects as a lecturer, writer, advisor, and consultant.
Her brand new portfolio is powered by ProcessWire and was built by Ben Byford. Ben is one of the creators we've regularly featured in our issues, and the work he has done on this site is once again downright awesome: leannelangley.com looks great, is responsive, and feels very fast.
Behind the scenes the site makes use of the AIOM+ module for minifying styles and scripts, though we should probably add that they are both remarkably low in volume. The front-end of the site includes only what is really needed and makes good use of CSS transitions and SVG images for the few effects it needs.
If you'd like to hear more about this site, there's a dedicated support forum thread you can use to post your own questions. Thanks to Ben for sharing your work with us, and congratulations for consistently producing outstanding quality!
Stay tuned for our next issue
That's it for the 94th issue of ProcessWire Weekly. We'll be back with more news, updates, and content Saturday, 5th of March. As always, ProcessWire newsletter subscribers will get our updates a few days later.
Thanks for staying with us, once again. Hope you've had a great and productive week, and don't forget to check out the ProcessWire forums for more interesting topics. Until next week, happy hacking with ProcessWire!